The Riley County and Lawrence police departments have re-released a composite image of a person of interest and have intensified investigative efforts related to serial rapes committed in Manhattan and Lawrence, the departments announced Tuesday.
The rapes have been occurring sporadically since 2000.
"Part of these efforts has included a review of each case to identify any information that could yield additional leads," police said in their news release Tuesday.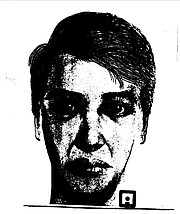 During the investigation of the first case in Manhattan, a composite sketch was made of a male described as being 5 feet 10 inches to 6 feet tall with a medium athletic build and medium-length sandy blond hair. No additional leads were generated at the time as a result of that sketch, police said.
The two police departments decided to release the composite again in the hope that someone would recognize the man. They note that the sketch is of a man who was seen in the area of the first reported rape and is not necessarily the suspect. They also note that the image represents the subject's appearance 17 years ago, in October 2000.
The suspected serial rapist is thought to have attacked 14 University of Kansas and Kansas State University students.
He has previously been described as a white male, 5 feet 9 inches to 6 feet tall, heavy set with a "prominent stomach."
Anyone who may recognize this subject is asked to call Manhattan Riley County Crime Stoppers at 785-539-7777 or toll free at 1-800-222-TIPS (8477). SMS Text tips are also accepted by sending a text to "CRIMES" (274637) and starting the body of your message with "TIP353." Webtips are also accepted by visiting Manhattan Riley County Crime Stoppers online or www.RileyCountyPolice.org. You can also download the TipSubmit mobile app for both iPhone and Android operating systems and submit anonymous tips via the app. You do not need to leave your name when providing a tip, collect calls are accepted, and you may be eligible for a cash reward, the release said.
In addition to any Crime Stoppers reward, an anonymous local donor has provided $10,000 to the Riley County Police Department to use as reward money for information leading to an arrest in these cases. Additional information can be found at http://kansascollegerapist.com/.
Copyright 2018 The Lawrence Journal-World. All rights reserved. This material may not be published, broadcast, rewritten or redistributed. We strive to uphold our values for every story published.