Inspired by a member who returned to college this year after becoming paralyzed in an accident, a University of Kansas fraternity is raising money to help other KU students with disabilities.
The second TomSTRONG 5K Run/Walk/Roll — with the motto "Choose to thrive" — will kick off at 10 a.m. Sunday at Memorial Stadium. Registration and details are available online at tomstrong5k.org.
Members of the KU chapter of Beta Theta Pi planned the inaugural TomSTRONG 5K in April 2016. Through race proceeds and additional donations, the event raised $48,114 for KU Endowment to start the Tom Babb Student Accessibility Scholarship fund, according to KU Endowment.
"It's helping students at KU with disabilities," said race founder and chief marketing officer John Killen Jr., a Winona, Minn., senior and Beta fraternity member. "We give a scholarship now every year to one student who — as we put it — chooses to thrive."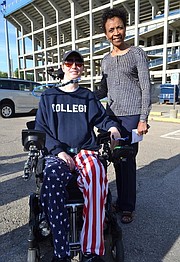 In December 2015, Beta pledge Tom Babb, of Evergreen, Colo., became paralyzed from the neck down in a diving accident while vacationing with his family in Hawaii. Babb spent weeks hospitalized in Hawaii before being flown home to Colorado, where he spent several more weeks hospitalized on a ventilator before beginning months of physical therapy.
Unable to return to KU for his second semester, Babb missed what would have been his fraternity initiation ceremony in early February.
But later that month, fraternity alumni chartered a bus and members drove overnight to surprise Babb in Colorado and initiate him there.
Last summer, fraternity alumni raised money to renovate part of Beta's chapter house at 1425 Tennessee St. to enable Babb to move back in when he returned to KU in fall 2016.
The Tom Babb Student Accessibility Scholarship is reserved for a disabled KU student who requires help from a caregiver. The recipient is chosen through KU's Academic Achievement and Access Center.
Babb himself is not using the scholarship, Killen said. When the scholarship was created, Babb and his family said they wanted it to go back to KU.
The first recipient, whose name is not being shared for privacy reasons, received an undisclosed amount of money this year, Killen said.
KU Endowment hopes to raise an additional $20,000 from this year's TomSTRONG 5K, according to Michelle Tevis, KU Endowment senior editor of media relations.
She said the family of a KU student has anonymously given $5,000 to the fund this year and hopes it will be matched.
Direct donations to the fund can be made online at kuendowment.org/give, specifying the fund name — Tom Babb Student Accessibility Scholarship — where prompted.
Contact KU and higher ed reporter Sara Shepherd
Have a tip or story idea?
---
More stories
Copyright 2018 The Lawrence Journal-World. All rights reserved. This material may not be published, broadcast, rewritten or redistributed. We strive to uphold our values for every story published.