A Lawrence municipal judge on Tuesday sentenced a man being treated for mental illness to 48 hours in jail, followed by one year of probation for physically attacking an emergency room nurse at Lawrence Memorial Hospital in July.
Dale Beaulieu apologized for the assault in court, saying he has since received treatment for bipolar disorder at Osawatomie State Hospital and continues to receive treatment at Bert Nash Community Mental Health Center in Lawrence.
But ER nurses at the hospital say such attacks have become routine in recent months, especially as mental health patients now often stay in the ER for days waiting for beds to become available at Osawatomie State Hospital. And many ER workers have said they now fear for their safety at work.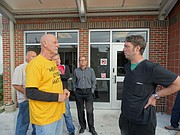 "This happened to me, and it happened to be a person in a mental health crisis," said Frank Ronan, the victim in Beaulieu's case. "But violence occurs in the ER on a fairly regular basis, and we want the penalties for violence in the ER to reflect other people who are in the line of fire such as police and first responders."
As they did in an earlier hearing in September, several LMH employees showed up for Beaulieu's sentencing Tuesday to show their solidarity and to raise awareness about the dangers ER workers often face on the job.
But so too did a number of mental health advocates, including Charlie Ross, who described himself as Beaulieu's best friend and a fellow client at Bert Nash. He said he and others were concerned about what he called "criminalizing mental illness."
In pronouncing the sentence, Judge Scott Miller spoke about the legal and moral conflict Beaulieu's case represents.
"There are a lot of competing interests in this case," Miller said. "One interest, of course, is for someone like you to receive the best mental health treatment you can receive."
"There is also interest in a case like this for someone who's providing medical care," he continued, "that they don't have to be a perpetual victim of violent activities because they don't sign up for sustained violence that they face a lot of times."
Outside the courthouse, Ross, wearing a yellow T-shirt bearing the words "Mental Lives Matter" across the front, shook hands with Ronan and talked about the case.
"I don't want this to be an instance of ER versus mental health," Ronan assured Ross. "It's ER versus workplace violence."
"When you're holding people in crisis for 100-plus hours, if they're mentally fragile at the beginning of that time, where are they going to be at the end of 100 hours?" he said.
Ross, meanwhile, praised Judge Miller's handling of the case.
Beaulieu was given an underlying sentence of 180 days in jail, but he will only have to serve two of those days before he is released on a year's probation, and he will remain free as long as he complies with the terms of his probation. He was also ordered to pay a $400 fine, plus various court costs.
"I think Dale is truly remorseful," Ross said. "He wanted to serve the two days for battery and he wanted to be on probation. I think he's done everything he can to own up to his responsibility, which many of us do that in our situations."
Copyright 2018 The Lawrence Journal-World. All rights reserved. This material may not be published, broadcast, rewritten or redistributed. We strive to uphold our values for every story published.