Today's society is full of complicated, and sometimes uncomfortable, issues, Kansas University Chancellor Bernadette Gray-Little told graduates during KU's 144th commencement ceremony on Sunday.
She said earning a degree may make a KU alumnus but that graduating with a desire to change the world is what makes a Jayhawk.
"As you leave this place, use the knowledge and perspective you acquired at KU to address the world's grand challenges," Gray-Little said. "Dedicate yourself to not only doing well, but doing good."
Photo Gallery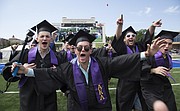 KU Graduation 2016
The thousands of graduates and loved ones attending Sunday's commencement ceremony at Memorial Stadium enjoyed sunny skies, temperatures in the mid-60s and a celebratory atmosphere.
The event included graduates' traditional march through the Campanile and down the hill into the stadium, mass conferrals of degrees by each KU school, recognition of student award winners and the hoodings of two honorary degree recipients, both KU alumni.
Brian McClendon, who co-founded Google Earth and who's now an executive for Uber, received an honorary doctorate of science. Terry Evans, a visual artist acclaimed nationally for her photographs of America's heartland, received an honorary doctorate of arts.
With KU closing out its 150th anniversary year, the program and Gray-Little's remarks paid tribute to the university's long and sometimes tumultuous past.
KU was founded in 1866, on the heels of William Quantrill's 1863 raid on Lawrence, which left the free-state town in ashes and close to 200 of its residents dead.
The university's first commencement took place in 1873, and that year's four-member class included Flora Richardson, valedictorian and KU's first female graduate. Through the years KU saw presidential visits, scientific discoveries, student protests, athletic accomplishments and the effects of wars.
On the street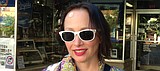 Don't be afraid to make mistakes.
Today, Gray-Little said, world problems include extreme wealth inequality, gun policies, depletion of natural resources, access to health care and the appropriate role of government.
The KU community has done a lot of reflecting this year, on the university's history as well as its future, she said.
"We have a legacy of persevering and confronting these challenges head-on," she said. "These are incredibly complicated topics for which there are no easy answers … We've called on you to address these challenges."
---
2016 KU student award winners
The following KU graduates were individually recognized during Sunday's commencement ceremony at Memorial Stadium.
Lawrence campus:
• Donald K. Alderson Memorial Award: Cornelius Baker
• Alexis F. Dillard Student Involvement Award: Kierstin Jane McMichael and Tina Marie Woods
• Caryl K. Smith Student Leader Award: Hannah Elizabeth Reinhart
• Rusty Leffel Concerned Student Award: Ashlie Marie Koehn, David Ménager and Omar Alam Rana
• Campanile Award: Madeline Sniezek
• Class of 1913 Award: Bryce Tappan and Jennifer Hedi Stern
• Agnes Wright Strickland Award: Alvaro Papa Silva and Lauren Elaine Arney
• Kathryn Nemeth Tuttle Student Scholar Award: Lindsay Eileen Frank
KU Medical Center:
• Dorothy Knoll Outstanding Student Leader Award: Christi Nicole Nance
• Student Diversity Award: Vicki Otaño
• Good Catch Patient Safety Award: Whitney Davidson
Copyright 2018 The Lawrence Journal-World. All rights reserved. This material may not be published, broadcast, rewritten or redistributed. We strive to uphold our values for every story published.