A Lawrence resident who went on to have an award-winning and globetrotting career as a photographer and journalist with The Washington Post, National Geographic and several other organizations has died.
Bill Snead, 78, died Sunday after a battle with cancer, members of his family said.
Snead began his career as a photography assistant at the Lawrence Journal-World while he was still a 17-year-old student at Lawrence High School. Snead would go on to cover wars, Super Bowls, national political conventions and other high-profile assignments while working as a photographer and editor for The Washington Post, National Geographic, the UPI and others. Snead returned to the Journal-World in 1993 to become its deputy editor and left the paper in 2007 as a senior editor.

Photo Gallery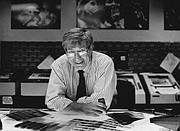 Bill Snead photographs
Photographs from the career of Bill Snead, including work from United Press International, Washington Post, News-Journal, Willmington, Delaware and the Lawrence Journal-World.
Leaders in the journalism industry praised Snead's life and career.
"Bill Snead was a unique individual, usually with a twinkle in his eye and quick with an interesting story," said Dolph C. Simons Jr., editor of the Journal-World and chairman of The World Company. "He was recognized as a world-class photographer, one of the best, and an excellent writer. He was a visionary thinker and doer, fearless in many respects, and a hard worker always seeking better performance by himself and his associates."
Gary Settle, a fellow news photographer and friend of Snead's, recalled how Snead planned to take a European vacation in 1991, but got sidetracked when pitched battles broke out in the Balkans. Snead called his boss and friend, famed Washington Post editor Ben Bradlee, to tell him he was going to the Balkans and to look for him to send back photos.
"Working his way through Albania, Yugoslavia, Romania, Iraq and Turkey, he covered events as a million Kurdish refugees were driving out of Iraq into Turkey, found ways to process his film, made prints and got them transmitted back to The Washington Post," Settle recalled in a recent email. "Over three hectic weeks, The Post published 33 of Bill Snead's photographs from the crisis. Many were the first and only of their kind."
The following year, Snead won the newspaper photographer of the year award from the White House News Photographers Association. That year he also was a runner-up for a Pulitzer Prize for news photography.
"This is just something to tell you about Bill Snead," The Post's Bradlee wrote in a 1992 letter. "He is quite simply one of the world's sweet guys on top of one of the really great photographic talents of his generation."
Snead spent 21 years with The Washington Post, including time as a staff photographer and as the assistant managing editor for graphics. During his career, Snead also served as picture editor for National Geographic, was bureau manager for United Press International in Saigon during the Vietnam War, was director of photography for the Wilmington (Del.) News-Journal, and worked as a photography assistant for the Topeka Capital-Journal. Both at the Journal-World and the Capital-Journal, Snead worked under the direction of former Lawrence resident and famed sports photographer Rich Clarkson.
Clarkson said Snead was the first person he ever hired, and did so on the recommendation of Snead's adviser at Lawrence High School. Clarkson, in a recent email, said Snead had a "storied career," and praised his work not only as a photographer but also as a photo editor.
Simons said Snead was known for producing a breadth of quality journalism.
"He had the rare ability to tell compelling stories through photographs and words about individuals in high prestigious positions as well as cowboys in a dusty rodeo ring in Strong City, weddings to wars, graduation ceremonies to funerals, Kurds to Kansans.
"Those of us in the Journal-World family have enjoyed following his career starting as a Journal-World photographer, achieving national recognition for his superior work abroad and throughout the U.S. and then back here in Lawrence in an executive newsroom position. He was one of a kind."
Snead battled a rare form of cancer of the blood called hairy cell leukemia since the early 1980s. He wrote about his fight in an extensive Washington Post article in 1990, detailing how he was one of the first hairy cell leukemia cancer patients to undergo an experimental treatment of the disease at the Scripps Clinic in California. Snead ultimately died from complications of lung cancer, which was discovered more recently, his family said.
Longtime friend John McGrew, a Lawrence businessman who knew Snead since the two of them worked together as teenagers at the Journal-World, said Snead always was up for an adventure.
"The way he battled that disease told a lot about his courage and the warrior he has been," McGrew said. "He was one of those very special Lawrence citizens."
Snead is survived by Dona Snead, of the home; a son, Mark Snead and his spouse Liz and their children, Sam and Emma, of Arlington, Va.; and a daughter, Sally Snead, also of Arlington, Va.
Funeral services are pending. Look for a full obituary in a future edition of the Journal-World.
Copyright 2018 The Lawrence Journal-World. All rights reserved. This material may not be published, broadcast, rewritten or redistributed. We strive to uphold our values for every story published.