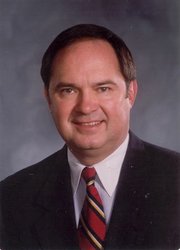 A longtime Lawrence businessman who has worked with thousands of Douglas County families will take over as the next president and CEO of the Lawrence Chamber of Commerce.
Larry McElwain, the former owner of Warren-McElwain Mortuary, will begin serving as the chamber's top executive on July 1, the chamber board announced Wednesday.
McElwain said he'll spend a lot of time listening to community members and trying to promote consensus on issues related to growth, economic development and other community issues.
"I love bridge-building," McElwain said. "I love to try to find ways to bring people together."
McElwain will become the chamber's fifth CEO since longtime leader Gary Toebben — a close friend of McElwain's — left the job in 1999.
McElwain's hiring is a departure from the past strategy of the chamber. While McElwain has been an active member of the chamber of commerce, he has no experience as a chamber executive. But early in the search process, chamber board members said they wanted to consider local candidates who would have less of a learning curve about how Lawrence operates.
"Larry best defines what we were looking for in a chamber CEO," said Doug Gaumer, who chaired the chamber's search committee. "He possesses local DNA, has existing relationships with key stakeholders, and has the business background for managing organizations."
McElwain, 66, came to Lawrence in 1966 as a Kansas University student and football player. He began working in the mortuary business in 1968, and then became an owner of the business in 1974. He has his degree in public personnel administration from KU.
McElwain said he thinks his longtime involvement in the community will help him spot potential conflicts, and bring people together early to discuss possible solutions.
"I know a lot of people," McElwain said. "I think that will be very helpful. I know the battles that have occurred in the past, and I know the players in those battles."
McElwain said he plans to play a leading role in the community's economic development efforts, but said more specialized help on the economic development front is likely to be hired.
The chamber board said Wednesday that the Economic Development Corporation of Lawrence-Douglas County will hire a new position that will focus on economic development efforts. McElwain will lead the search for the position. The chamber board said qualifications for the economic development position will be developed by the chamber, the city, and the county in the coming weeks, with a hiring likely occurring in the third quarter of the year.
"We've been told certain credentials and certifications and a Rolodex full of names are important in the economic development world," McElwain said. "I don't have all of that, but I know I can be a good, if not great, ambassador to Lawrence because I've been a part of the business community, I know the community, and I love the community."
Bonnie Lowe, who served as interim president and CEO of the chamber, will remain on the staff in her previous role as chief operating officer.
Copyright 2018 The Lawrence Journal-World. All rights reserved. This material may not be published, broadcast, rewritten or redistributed. We strive to uphold our values for every story published.