Topeka — Lawrence attorney Margie Wakefield kicked off her campaign for the Second District congressional seat with a rally in Topeka Thursday in which she lashed out at incumbent Republican Lynn Jenkins.
"Kansas will lead the country this year in a backlash against the extremists and obstructionists that hold elected office now," Wakefield told about 300 supporters shortly after officially filing to put her name on the ballot.
"It's goodbye to the failed policies of the triumvirate of Gov. (Sam) Brownback, his hand-picked Legislature, and do-nothing Lynn Jenkins in Congress," she said.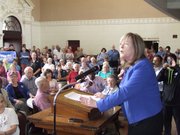 Hours before the event, however, the Jenkins campaign signaled that it was ready for a fight, issuing a statement labeling Wakefield a "divorce attorney," tying her to President Barack Obama and claiming that she had already violated a Federal Election Commission rule.
The Jenkins campaign noted that Wakefield had put out automated telephone calls, known as "robocalls," to announce plans for the rally, but the message failed to include a required disclaimer that it was paid for by her campaign.
"Today, divorce attorney Margie Wakefield stumbled out of the gate by immediately breaking federal laws regulating the conduct of federal elections," the statement said. "While it is perfectly legal to fail to tell Kansans of her steadfast love of Obamacare, federally funded abortions and tax increases in her robocall, failing to include information required by federal campaign law is quite the opposite."
One Wakefield campaign aide conceded it was "a goof" not to include the disclaimer. But Wakefield herself said the phone message made it clear that it was a campaign announcement.
"It certainly was the intent to identify the campaign and comply with the spirit of the law," she said.
Meanwhile, Wakefield went to great lengths to connect Jenkins with the Republican leadership in Congress and last year's partial shutdown of the federal government.
"Just ask our veterans, Army civilians and federal employees in Leavenworth how the pay freezes, the furloughs and the government shutdown affected them," Wakefield said. "My opponent Lynn Jenkins voted for 16 days to shut down our government. I would have known better."
She also took pains to link Jenkins with Brownback and the Kansas Legislature. She noted that Jenkins has supported the Republican leadership's budget plan, which calls for partial privatization of Medicare, the federal health insurance program for the elderly.
"And we've seen how well privatizing worked out with KanCare," Wakefield said, referring to Brownback's program to privatize Medicaid, the joint state and federal health care program for the poor.
Campaign officials said they were pleasantly surprised by the turnout for the rally, which was held at the restored Great Overland Station railroad depot in north Topeka. But voting trends from recent elections show that doing well in Topeka and Lawrence is not enough to win the Second District, which includes all of eastern Kansas outside the Kansas City metropolitan area.
Two years ago, Jenkins won re-election against Democrat Tobias Schlingensiepen with 57 percent of the vote, despite losing in both Topeka and Lawrence, the two biggest population centers in the district.
Wakefield's challenge will be to generate the same kind of enthusiasm in other parts of the district like Leavenworth, Atchison, Ottawa, Pittsburg and Fort Scott, where Jenkins won by substantial margins.
"I think that we can," Wakefield said. "We have been very encouraged by the support that's been showing up for us. People are ready for a change.
Copyright 2018 The Lawrence Journal-World. All rights reserved. This material may not be published, broadcast, rewritten or redistributed. We strive to uphold our values for every story published.