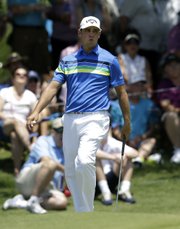 Irving, Texas — The same golf gods who tortured Gary Woodland throughout the front nine Sunday, seemingly shrinking the cup on the right side by an inch, finally let his Callaway golf ball roll slowly in the right side of the cup on No. 18 at Las Colinas. And all he was trying to do was get it close.
Woodland's uphill, big-breaking, right-to-left putt measured 43 feet, and when it dropped, the big gallery looking down on the green erupted. As he walked off the green, he cocked his head, spread his arms and shrugged, as if to say, "How do so many makeable putts roll right over the edge when an impossible one drops?"
Answer: That's golf.
Woodland entered the final day of the Byron Nelson Championship tied for third, one stroke behind two co-leaders. He finished with a 1-over-par 71 Sunday to drop to 8-under for the tournament, good for a seventh-place tie, six strokes behind first-time winner Brendon Todd.
"Got lucky," Woodland said of his final putt. "One of those where you were just trying to get it close. Kind of the essence of the day. I didn't get too much to go in today. I hit a lot of edges. I had a lot of good putts, especially early. I just couldn't get anything to go in."
He took mixed emotions away from the tournament.
"It's frustrating right now," Woodland said. "It stings a little bit because I had a pretty good chance to win a golf tournament, but we'll build on it, and we'll get better."
Woodland already has gotten better. He has four top 10 finishes in 14 tournaments this season and has finished in the top 20 in six of his past seven events, the lone exception being a 26th-place finish at The Masters. Woodland shot 68-67-66-71 to continue his season-long pattern of firing his low round on Saturday (68.75 average), his high one Sunday (71.17 average). But he didn't appear to be done in by Sunday nerves. He hit the ball crisply with a free and easy swing and showed off his improved short game right off the bat, chipping in on No. 1 for birdie.

Is there anything about Sunday that makes it tougher than Saturday?
"No, the conditions were a little tougher today, the wind blew a little bit more, but I just hit a lot of edges," Woodland said. "I just didn't get any putts to go in. Especially when I hit good putts, you can't get mad about that."
He could get angry with himself for turning what on paper shaped up as his best birdie opportunity into his worst hole.
"Seven killed me," Woodland said of the short par-5 on which he lost three strokes to par in the final two rounds. "Par-5s were the golf tournament for me this week. I think I played the par-5s even par, and I'm hitting a middle iron into 7 every day, and I'm hitting a long iron into 16. So for me to play those even par, that's eight shots. That's the golf tournament."
Still, Woodland earned $207,862.50 for his latest top-10 finish, so he won't need to bring a portable metal detector to search for change on the beaches of Cabo.
He moved up to 17th on this season's PGA Tour money list with $2,029,249 in earnings and 17th on the FedEx points list.
Copyright 2017 The Lawrence Journal-World. All rights reserved. This material may not be published, broadcast, rewritten or redistributed. We strive to uphold our values for every story published.