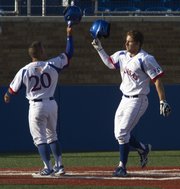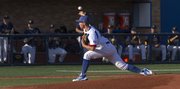 It took a departure from the norm for Kansas University to win its seventh consecutive Big 12 Conference baseball game, but that's exactly what the Jayhawks did, knocking off West Virginia 5-3 Friday at Hoglund Ballpark.
Finding a new way to win did nothing to temper the Jayhawks' postgame eruption. In fact, it may have added to it.
A pair of two-run home runs — one by Michael Suiter in the first inning and another by Tucker Tharp in the eighth — bookended the Jayhawks' latest Big 12 triumph. For a team that ranks fifth in the nine-team conference in home runs and is known more for manufacturing runs than mashing them, winning a crucial game with the longball added a feeling of euphoria.
"It's definitely exciting," said Suiter, who also delivered a key single in the eighth and scored the tying run on a double from Connor McKay. "Since we don't do it that much, you saw how crazy we got out there."
Asked if he was bothered by the fact that people don't consider the Jayhawks to be a power-hitting team, Suiter, who has three home runs on the season, simply smiled.
"I know our strengths," he said. "We've got speed, and we can hit for doubles, so I don't hate it as long as we're getting wins."
For a while Friday night, adding another victory looked inevitable. Suiter's bomb in the first inning gave KU a 2-0 lead, and Jordan Piché came through with yet another quality start on the mound, limiting the Mountaineers (27-18 overall, 9-9 Big 12) to just one run through the game's first six innings. However, in the seventh, West Virginia started to chip away and picked up the game-tying run off Piché after three straight singles and a sacrifice fly. Piché got out of the jam with the game tied, but closer Stephen Villines gave up a home run to the first batter he faced in the top of the eighth, and, just like that, the Mountaineers led.
Villines, a freshman who picked up the victory, settled down and got out of the inning unscathed after that, setting the stage for KU's offense.
Suiter singled to lead off the eighth, and McKay drove him in with an angry double two batters later to tie the game at 3. Two pitches later, Tharp turned on one and had his fist in the air before he was even half-way to first base.
"I knew I had it," he said. "We kind of are who we are. We're a small-ball kind of team, but we can be whatever. As long as we keep putting the ball in play and hitting it hard, we should be OK."
Asked where the homer ranked for the senior Boulder, Colo., Tharp pointed to its importance in the big picture of this season, not just Friday's victory.
"That's definitely up there," he said. "We're playing to get into the NCAA Tournament right now, and that one meant a lot."
The win itself was enormous. That the Jayhawks (31-21, 13-9) got it against the reigning Big 12 pitcher of the year in WVU's Harrison Musgrave made it even sweeter.
"You're not gonna string hits together against him," KU coach Ritch Price said. "You're gonna have to get clutch hits with two outs or put a big swing on the ball, and we were fortunate enough to do that tonight. It was a grind-it-out win.
"We just beat one of the best pitchers in America. That's a great win for our club. Now we have to finish and win the series."
KU and WVU will tangle again at 2 p.m. today.
West Virginia 000 100 110 — 3 10 1
Kansas 200 000 03x — 5 8 1
W — Stephen Villines, 2-2. L — Sean Carley, 5-2.
2B: Connor McKay, Ka'iana Eldredge, KU. HR: Michael Suiter, Tucker Tharp, KU; Ryan McBroom, WVU.
KU highlights: Jordan Piché 7 IP, 8 H, 2 ER, 3 K; Villines 2 IP, 2 H, 1 ER. Suiter 2-for-4, HR, 2 RBIs, 2 runs; Connor McKay 1-for-3, 2B, RBI, run; Tharp 2-for-4, HR, 2 RBIs, run.
Copyright 2018 The Lawrence Journal-World. All rights reserved. This material may not be published, broadcast, rewritten or redistributed. We strive to uphold our values for every story published.