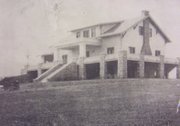 Lawrence Country Club centennial celebration events
"Lawrence Country Club Centennial Celebration Hickory Stick Tournament"
1 p.m. May 8
For $50 per person, members can play nine holes with retro hickory golf clubs and mesh balls.
Centennial Celebration
July 18th 6 p.m.
An open house will feature food, drinks and prizes by the LCC pool.
July 19th 7 p.m.
A dinner of steak and seafood in the formal dining room will be followed by stories of the club's past.
100 Years of Lawrence Country Club
Aug. 2014 - The club is incorporated for 300 shares worth $30,000.
June 2015 - Members visit their nearly complete clubhouse for the first time.
May 1919 - The club hosts the Kansas State Golf association. The course is said to be the hardest in the state, according to the Lawrence Daily Journal-World.
1935 - Course gets a redesign by famous golf architect Perry Maxwell.
August 1959 - Clubhouse gets a $55,000 makeover that includes a new pro shop, lounge and grill.
1968 - Alvamar public golf course built in Lawrence.
2005 - Course gets a redesign that includes water-saving features that lessen its impact on the environment.
2014 - LCC celebrates its centennial. James Shubert, 99, is its longest running member.
When the Lawrence Country Club came into being in 1914, its founding members included, among other Lawrence luminaries, coaching legend and inventor of basketball James Naismith.
Golf and basketball are about as different as two sports can be, but both have brought visitors from around the country to Lawrence to watch and play. In the country club's 100-year history, it has seen its share of pros and celebrities on the greens, including other legendary Kansas University basketball coaches.
This year the club is celebrating its centennial with events meant to take people back to its early days.
The LCC's original purpose was the "maintenance of a club for social enjoyment" and the "promotion of indoor and outdoor sports, and various other forms of amusement and recreation."
That is according to the club's founding document, which was all that existed of the club at the time. A site for the course hadn't been picked when the club began. It was a club without a clubhouse or any space of its own, though it would get its site and its clubhouse in less than a year.
The LCC and clubs around the country might not have survived if they had relied solely on golf to attract members. "It's a hard game," said Mark Buhler, vice president of the LCC's board of directors. "It takes a lot of money to play, it takes time."
"It's a great game," he adds. But hard.
And it's changed a lot in 100 years. Back then most courses were nine holes, including the one at LCC. Golf balls were made of rubber. And most club handles were fashioned from hickory, which seems primitive compared to today's fine-tuned alloys.
On Thursday the club will give a nod to those lost days with a "Hickory Stick Tournament." Foursomes will take to the course with hickory-handled clubs and mesh balls, and they'll get a discount at a website that sells the sort of knickers that were the rage back then.
Evolution of a golf course
In 1935 the course got an expansion and redesign with the help of Perry Maxwell, one of the most famous golf course architects at the time. Maxwell's redesign was maybe the biggest transformation in the course's history, but the course and club have undergone constant change to keep up with social, technological and even environmental change.
In 2005 the course went through another redesign. Much of the work then had less to do with golf than it did with a resource as invaluable to the sport as it is to pretty much everything else: water.
The club built new infrastructure that allowed it to irrigate with rainwater it trapped, rather than relying on water provided by the city. Among the water-saving features were a series of holding ponds that can store water for later use by the course, plus underground sensors that can give precise measurements of moisture and activate the sprinkler system on command.
Today the club is known for its greens and difficulty, members say. Bill Irving, superintendent of the course since 2008, said the course plays similarly to those that PGA tournaments are played on. The trick to that is to get the grass firm and "as dry as we can without killing it" to keep the balls running true, Irving said.
That takes time, money and effort, but it's a point of pride for the club. "Hey, we're 100 years old," said Bill Wagner, the LCC's board president. "And we believe we're state-of-the-art."
Copyright 2018 The Lawrence Journal-World. All rights reserved. This material may not be published, broadcast, rewritten or redistributed. We strive to uphold our values for every story published.