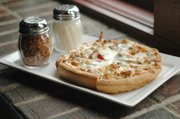 America, where even sandwiches can grow up to be anything they want to be — including pizza. (Well, maybe not you, peanut butter and jelly.) A few places around town sell Philly pizza with steak. Henry T's Creamy Chicken Philly Pizza is like a white version of the traditional Philly sandwich on a personal-size crust, featuring grilled chicken, sauteed peppers, onions and melty cream cheese.
Where to get it: Henry T's Bar and Grill, 3520 W. Sixth St.
What you'll pay: $5.99
Try it with: Hot pepper flakes. Extra Parmesan is just overkill.
Also on the menu: More personal pizzas, hot wings, hearty salads, BLT and Reuben sandwiches, burgers, a couple steaks and fun small plates — chicken and waffle, BBQ Empanadas, potstickers and street tacos to name a few.
Copyright 2018 The Lawrence Journal-World. All rights reserved. This material may not be published, broadcast, rewritten or redistributed. We strive to uphold our values for every story published.