Photo Gallery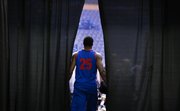 Kansas and Stanford press conferences
Images from a day of interviews and press conferences
St. Louis — Kansas University's basketball team holds an 8-2 series advantage against Stanford. Yet in the last meeting, the Cardinal defeated the Jayhawks, 64-58, on Dec. 6, 2003, in Anaheim, Calif.
It was Bill Self's fourth game as coach of the Jayhawks and his first loss.
"I remember Mike Montgomery was the coach, and we go out there for the Wooden Classic with Kentucky and UCLA on the other half," Self said Friday. "They controlled the game from start to finish. (Josh) Childress was on that team. It was the year they were a No. 1 seed and had a great year. They've always had good players and always had good teams and always had size, it seems like. And certainly this year is no exception."
KU will meet coach Johnny Dawkins' Cardinal at 11:15 a.m. today in Scottrade Center.
"I think he is one of the classiest people that we have in our profession, whether it be head coach, assistant coach, athletic director, trainer, academic person. You know, he epitomizes class," Self said of Duke graduate Dawkins. "He conducts himself that way, and he always has.
"I think they did some study, some poll, that Danny (Manning, former KU standout, current Tulsa coach) was the best player that is coaching in the tournament, and Johnny was the second-best player that is coaching in the tournament. And this guy was national Player of the Year and led Duke to the Final Four before Duke was going to Final Fours.
"To see a guy that experienced, with that much success on the hardwood, then to come basically do the things that assistant coaches have to do, like Danny did as well, and to be totally humble in how you conduct your business, when you don't have to do that unless you are in the business of helping kids, I think is pretty cool. He's been great for our game."
Early tipoff: "When they told me 11:15, I thought, 'Damn,' because I know our players would. But then I thought, 'Well, what is (Stanford coach) Johnny (Dawkins) saying?' You know, they will have pregame meal at 5:15 their time (Pacific). But they have been over here long enough. ... I think both teams will be awake, alert and ready to go."
Noted KU's Wayne Selden: "Thinking back to even the Georgetown game, we played at 11, we played pretty well (86-64 KU victory). It is just a point of waking up. Getting up early, getting a good breakfast in you and just playing basketball, because that's what we love to do."
Added Andrew Wiggins: "I think we're used to it. Sometimes we practice early. We had a couple of early games this year. So like Wayne said, we just have to have a good breakfast, get a lot of sleep the night before and just be ready to play early."
Early scout: Self wasn't thrilled when a reporter informed him that it appeared Wiggins and Selden did not know anything about Stanford's Chasson Randle.
"That's not true, but we haven't gone over personnel with our guys yet," Self said. "That's not fair to our guys to ask something that we haven't passed out scout reports and things like that on yet. We know he's good. Of course, he is averaging 18.9 (points) a game. If you want to know anything about him, you can probably ask me, because he is 18.9 overall and 18.7 in league, and the kid can do a lot of things. And Powell (Dwight) is 14.9 overall, 14.1 in league. Our guys will be very, very aware of them. But for them to know every individual, things like that, especially something they are not going to be guarding, at least matched up on, I think it is a little unfair because we haven't gone over personnel yet."
On Conner: Self was asked if he would be confident in going to Conner Frankamp at backup point guard early following Frankamp's career-high 10 points and four assists against Eastern Kentucky:
"Conner performing like he did yesterday and being a solid guy for us, and basically calming our team some I think gives me a lot of confidence to go with him earlier. And he certainly will be part of our rotation," he said.
Injuries: Self ruled freshman center Joel Embiid (stress fracture, back) out for today's game and said senior Justin Wesley was questionable because of a foot sprain.
Self was asked if he'd like to watch the Wichita State-Kentucky game: "It's an interesting scenario. You have Wichita State, who has had 'the year.' Nobody can deny that. They had as good a year that college basketball has seen in recent memory," Self said. "And then you have one of the truest blue bloods that has the reputation and all those sorts of things in young talent, that they will be battling each other. And it should be a fun game. I think it will be a fun game to watch. And if I do watch any of it, I will watch it strictly as a neutral observer and enjoy every moment. Because it could be very cool. But our focus isn't thinking about that. We've got our own business, what we need to tend to and hopefully tend to very well."
Jitters: Wiggins was asked about jitters in his first and only NCAA Tournament: "After my first college game I just felt more relaxed, because the first college game I was fighting nerves a lot, but I never felt as much nerves as I did the first game, so it has all cooled down now," he said.
Noted Self: "I remember him saying how nervous he was then. But I still think they get butterflies. Whatever a guy says that he's calm and doesn't feel certain things, I don't know if I totally buy into it. I don't think that maybe nervousness is maybe what they feel as much as anxiousness or butterflies. Certainly he feels that. But he's been pretty remarkable on how even-keeled he has been. The highs not too high and the lows don't ever get too low. He has been very steady."
Copyright 2018 The Lawrence Journal-World. All rights reserved. This material may not be published, broadcast, rewritten or redistributed. We strive to uphold our values for every story published.