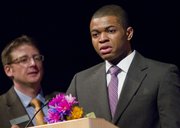 Free State High School senior and Boys & Girls Club of Lawrence Youth of the Year finalist Innocent Anavberokhai took home the Kansas Youth of the Year award Monday in Topeka.
As the state representative, Anavberokhai will advance to the regional level to compete in early June in Dallas. The winner of the regional competition will advance to the national competition this fall.
The Boys & Girls Club of America established the recognition program in 1947 to promote service, academic success and strong moral character. Each candidate is judged on interview skills, public speaking abilities and a set of written essays.
Boys & Girls Club of Lawrence member Trei Dudley won the national Youth of the Year Award in 2012, passing the title off to another Kansan, Kiana Knolland of the Boys & Girls Club of South Central Kansas, in 2013.
Copyright 2018 The Lawrence Journal-World. All rights reserved. This material may not be published, broadcast, rewritten or redistributed. We strive to uphold our values for every story published.