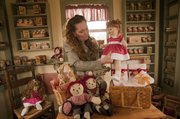 If You Go
What: People from around the region sell handmade arts and crafts or commercial products
When: Saturday from 9 a.m. to 4 p.m.
Where: Douglas County Fairgrounds, Building 21
Admission: free
Kathy Reynolds has a short attention span. But, in her line of work, that isn't necessarily a bad thing.
In fact, the Lawrence crafter said it has pushed her to become adept at several mediums, including woodworking, sewing, soap making, gardening and canning.
"I don't really just do one thing," Reynolds said. "I do it all. I have a tendency to get a little bored if I do the same thing over and over and over again."
Reynolds has put her varied skills to use, creating dolls, birdhouses, soaps, dishtowels, and canned and dried goods to sell at Lawrence's upcoming Spring Arts & Crafts Fest. Reynolds will be one of 80 exhibitors selling handmade items or commercial products such as fleece blankets, yard art, jewelry, candles, stained glass and baked goods. The fest will be from 9 a.m. to 4 p.m. Saturday at the Douglas County Fairgrounds in Building 21.
Reynolds, a fan of anything vintage, will have a 1940s theme at her booth.
"You'll probably even see me in some retro '40s clothes," she said.
Reynolds took up crafting three decades ago, back when she was a stay-at-home mom with four small children living in Wahoo, Neb. She said it was a means of finding who she was, apart from being a mother. And she quickly found success.
In 1994, representatives from QVC, a cable network specializing in home shopping, traveled to every state, selecting vendors who would have the opportunity to sell their products on air. Reynolds took one of her handmade dolls to the Nebraska auditions and impressed buyers, who helped sell 350 of them the next year. After that, Reynolds sold 750 limited edition dolls on another television channel, Home Shopping Network.
However, after working nonstop to create more than 1,000 dolls by hand, Reynolds decided it was time to move on to something else.
"It's been an interesting ride," she said. "But it was just craziness. I did it for 10 years, and I was really burnt out."
Three years ago, Reynolds and her family moved to Lawrence, and with a new location came a new project.
Though she has made and sold products for more than 35 years, Reynolds only recently opened a small shop that combined all of her skills under one roof. About two years ago, she built a roadside stand on the edge of her property, on North 1000 Road between Clinton Lake and Lonestar Lake. She filled it with inventory and opened for business.
Reynolds named her store the "Not Forgotten Farm," and opens it seasonally, selling mostly canned and dried goods.
"I'm not going to just stop here," Reynolds said. "I'd like to grow my gardens and expand the retail. I always want to try to improve upon what I'm doing, to try a new recipe or a design that's a little better. I make mistakes, but that's how I learn."
Copyright 2018 The Lawrence Journal-World. All rights reserved. This material may not be published, broadcast, rewritten or redistributed. We strive to uphold our values for every story published.