Contact KU and higher ed reporter Sara Shepherd
Have a tip or story idea?
---
More stories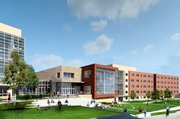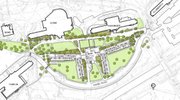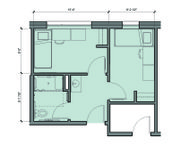 With imported dirt brought to a warm Lied Center Pavilion, Kansas University officials "broke ground" Wednesday on a new student housing complex that will replace McCollum Hall next summer.
In the coming weeks construction will begin on two residence halls tailored to the university's vision of 21st century education. Tammara Durham, KU vice provost for student affairs, said the the new halls will change the look and feel of the Daisy Hill area, which holds the bulk of KU's student housing, for generations.
KU Provost Jeffrey Vitter said that the new residence halls complete "a cycle of renovations over the last 20 years" to KU's student housing.
The new five-story buildings will hold up to 350 students each. Along with living suites, the $47.8 million project will include a commons area and spaces for collaboration and study. Diana Robertson, director of KU Student Housing, said the majority of living units won't contain living rooms, a way of ushering residents into the commons areas for collaborative study and socializing.
The buildings will sport wireless Internet, electrical outlets galore to meet the needs of modern tech-laden students, and a media technology room equipped with video equipment for help with multimedia projects for classes. They will also house student services such as advising and math and writing tutoring.
The buildings will replace the nearly 50-year-old, 10-story McCollum, set to be demolished upon the completion of the new halls. The buildings will lie on the western edge of Daisy Hill, between Templin Residence Hall and Irving Hill Road.
So far they are without names. At Wednesday's event they were referred to only by temporary names: "North Building," "South Building," the "McCollum Hall Replacement" and other placeholders. More specific names are to come this spring, pending approval by the Kansas Board of Regents.
Construction on the halls is set to begin later this month and expected to last through July 2015, with work being done by BA Green Construction Co. of Lawrence and Lenexa-based the Weitz Company. Treanor Architects of Lawrence designed the project.
Once the new halls are complete, McCollum Hall will be razed and a parking lot will take its place. The first residents will move in August 2015. Starting this September, students will be able to sign new contracts to live in the halls for the 2015-16 school year.
The project marks the first time KU has built a new residence hall since Oliver Hall was constructed in 1967. "If I'm going to do something once in 50 years, I'm going to do it well," Robertson said.
Copyright 2018 The Lawrence Journal-World. All rights reserved. This material may not be published, broadcast, rewritten or redistributed. We strive to uphold our values for every story published.