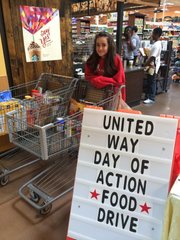 United Way of Douglas County participated in the organization's annual Worldwide's Day of Action for the first time Saturday with three separate volunteer events.
Lori Johns, the local United Way director of volunteer engagement, said nearly 50 local volunteers divided up to concur the three goals of United Way: education, self sufficiency and health.
"We decided to join in this year because it's been a three-year process to implement these goals," Johns said. "This was a great way to let the community know what the United Way is all about."
To promote education, 20 volunteers set out Saturday morning to collect book donations from porches around Lawrence. Johns said youth volunteers had delivered book collection bags to 1,800 local houses a few weeks ago.
Johns said the organization will continue collecting book donations after today at Douglas County United Way, 2518 Ridge Court, No. 200.
For self-sufficiency, about 10 volunteers from Hallmark's Lawrence Product Center helped set up for motivational financial humorist "Motorcycle Mary," who spoke to Lawrencians at Crown Automotive, 3430 Iowa St., about financial planning.
To meet the United Way's health goal, 20 volunteers staked out at five Lawrence grocery stores, taking donations of healthy foods to donate to United Way partners Just Food, Ballard Community Services and the Salvation Army.
Soon-to-be eighth-grader at Liberty Memorial Central Middle School Ana Hurt spent the day volunteering with her mother, Mandana Hurt, accepting food donations and encouraging shoppers to purchase healthy food to contribute at the Dillons at 1740 Massachusetts St.
Ana Hurt, who has about 85 community service hours toward her goal of 100 to receive her school's gold service award, said donors are mainly concerned that the food will stay in Douglas County.
"People have been really nice," Ana Hurt said. "Their main interest is they want to make sure the food stays local."
Though the food drive would take any type of non-perishable food, Mandana Hurt said the United Way is encouraging nutritious food donations.
"We're looking for healthy foods, but to be nonperishable it also has to be processed," Mandana Hurt said. "Whole grain cereal, canned meats, peanut butter – anything with high protein and low carbs."
Johns said the Douglas County United Way hopes to participate again next year in Day of Action, which always falls on June 21, the longest day of the year.
Copyright 2018 The Lawrence Journal-World. All rights reserved. This material may not be published, broadcast, rewritten or redistributed. We strive to uphold our values for every story published.