Photo Gallery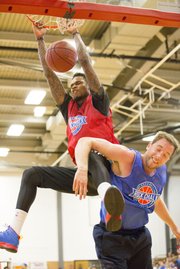 Rock Chalk Roundball Classic 2014
Left open in the corner with the outcome of the Rock Chalk Roundball Classic on the line, former Kansas University guard Tyrel Reed delivered on Thursday night in a packed Lawrence High gym.
The 2011 KU graduate from Burlington accepted a bullet pass from Russell Robinson, then hit nothing but net with 10.5 seconds to play, erasing a one-point deficit and giving the KU Alumni Red team a 91-89 victory over the Alumni Blue squad.
"Tyrel always does that. He's been doing that since Kansas, just hitting big shots," said losing Blue team member Brady Morningstar, whose three-point shot for the victory missed with one second left on the clock.
"I knew when it left his hand it was going in. I said, 'Don't let him shoot it,' but it got off and it was in," added Morningstar, who hit four threes and scored 16 points.
Reed, who is a physical therapy student at KU Med, connected on eight threes Thursday, good for 27 points. He tied for team-high scoring honors with Red teammate Ben McLemore, who put on a show with numerous high-flying dunks.
"Man, it was fun," said Reed. "It was a great pass from Russell up the court. I was lucky enough to shoot it at the end. I like taking those last shots. I always have."
Asked about his remarkable shooting performance, he said: "It's probably because I don't play anymore. My legs are fresh. I'm healthy. My ankle (that he hurt at KU) feels good. I'm in a good spot."
Reed wasn't convinced his bucket would be enough to beat a Blue squad that took an 89-88 lead with 27 seconds left on a driving layup by Sherron Collins, who finished with eight points. Morningstar had a good straight-on look for three at the buzzer.
"It was close. Brady's a great shooter, so I'm sure they were happy with that shot, too," Reed said.
"I thought it was good. I sure did. We could have used it," said Morningstar, who played for a pro team in Finland last season.
The Blue team was led by Mario Little and Cole Aldrich, who had 31 and 20 points respectively.
Little had an amazing dunk. He missed a free throw on purpose, then flew though the lane to grab the ball and ram it home.
"It was easy," Little said, with a smile, of his topping the 30-point mark. "I do what I can — high school rims, high school court."
Little, who emerged as a standout for Tulsa in the NBA Developmental League last season, will play for the Oklahoma City Thunder's summer league team.
"I've been ready for the NBA. I've been working hard, trying to better my skill level and all of that. If it comes, it comes," Little said of playing on the highest level.
Former KU football phenom Todd Reesing had 11 points for the winning Red Team. He hit a three to open the scoring and had an acrobatic spinning layup for a hoop.
"I think I got lucky, that's what I think," Reesing said. "I didn't think it (layup) was going to hit the rim. The fact it went in ... I was probably the most surprised person in the building. I'm glad it did."
Of his 11-point outing, he said: "I was going to be happy if I hit the rim or backboard a couple times. To actually see a couple buckets go in, I'll take it."
Red 91, Blue 89
RED (91)
Tyrel Reed 27, Ben McLemore 27, Todd Reesing 11, Jeff Hawkins 6, Greg Dreiling 6, Russell Robinson 6, Sean Pearson 5, Wayne Simien 4, Brennan Bechard 0, Danni Boatwright 0.
BLUE (89)
Mario Little 31, Cole Aldrich 20, Brady Morningstar 16, Sherron Collins 8, Jeff Graves 6, Brandon McAnderson 5, Conner Teahan 2, Jeff Carey 2, Carolyn Davis 2, Aaron Miles 0, Jeff Gueldner 0.
x-Points do not add up to the official score on scoreboard.
This that: Former KU center Greg Dreiling, who happens to be 51 years old, swished a pair of three-point baskets ... Jeff Graves flushed a highlight-reel dunk off a lob from Morningstar. ... Jeff Carey had a steal and finished the play with a slam. ... McLemore hit the offensive boards to flush a slam dunk off a Reesing miss. He also blocked a layup try by Conner Teahan on one end, then on the other end finished with a one-handed slam. ... Reed's winning three meant Bud Stallworth is 6-0 as head coach in this event, which benefits families affected by cancer. "He (Stallworth) said, 'Good shot at the end.' He said we had it all along. He wasn't worried, so I wasn't either," Reed said.
Big Wigg: Former KU shooting guard Andrew Wiggins traveled to Oregon this week to visit the Nike campus. Nike, which wants to sign Wiggins to a shoe deal, rolled out the red carpet for Wiggins, creating a sign that read, "Big Wigg on Campus." Read more about it in KUsports.com's All Eyes on KU blog.
Copyright 2018 The Lawrence Journal-World. All rights reserved. This material may not be published, broadcast, rewritten or redistributed. We strive to uphold our values for every story published.