The best way to experience Mass. Street, in its totality, is to start at Sixth and Massachusetts and walk south. The walk will take you past the shops, restaurants and outdoor patios, until you end up in a dreamy green space known as South Park.
There are so many reasons to appreciate this generous piece of land used for recreation and relaxation. With the summer in full swing, the amenities this park offers are ever abundant.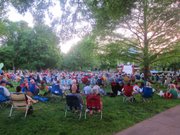 For starters, the Lawrence City Band's summer concert series started up in late May and will run through July 16, providing a total of eight summer concerts. Every Wednesday, head down to South Park on the east side of Mass., near the William Kelly Bandstand, a little before 8 p.m. and find a cozy spot to sit and enjoy the live music. We were able to make it to the second concert, which had the theme of "Summer in South Park." The lively marches and melodic overtures set the tone of the summer night; the children ran barefoot in the grass and the surrounding adults escaped with the band. This lovely evening really made summer feel authentic and present.
A little earlier in the mornings — and evenings — South Park turns into a sweaty mess of people dedicated to serious workouts. The summer schedule for Red Dog's Dog Days began in early June, meeting in South Park at both 6 a.m. and 6 p.m. Monday through Thursday. There is no cost to join in on this hearty workout, but interested parties do need to complete a signed waiver, which can be found on the Dog Days website, reddogsdogdays.org.
Later this month, on June 28, Lawrence Parks and Recreation is hosting a 2014 Summer Fest. From 10 a.m. to 5 p.m., South Park will be full of live bands, arts and crafts, food and drink vendors, and kids activities, too. It sounds like an event that is not to be missed!
South Park is not short on worthwhile events for anyone and everyone, especially in the summertime. Beyond the concerts, workouts and festivals, the park offers playground equipment for children, a wading pool, a butterfly garden, picnic tables and green space for various sports activities. With a location in the heart of downtown Lawrence, South Park is also a convenient place to stop after afternoon shopping or a lunch date. All of this to say, Lawrence has many local businesses we can all appreciate, but the outdoor green space is just as valuable!
— Jessica Pauly, aka Mrs. Mass., gives her thoughts on shopping, urban living and what's new in Lawrence in CheckOut weekly and on her blog, mrsmass.com.
Copyright 2018 The Lawrence Journal-World. All rights reserved. This material may not be published, broadcast, rewritten or redistributed. We strive to uphold our values for every story published.