Contact KU and higher ed reporter Sara Shepherd
Have a tip or story idea?
---
More stories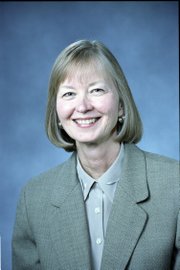 Ann Weick, former dean of the Kansas University School of Social Welfare and founder of the local food bank, died at age 73 on May 31.
Weick joined KU as a faculty member in 1976. She was named acting dean of the School of Social Welfare in 1987 and became permanent dean in 1988. She led the school for nearly 20 years, until 2006.
External research funding and private donations to the school grew substantially during Weick's time as dean, the university said.
"Ann Weick was instrumental in building the School of Social Welfare into the internationally respected school it is today," KU Chancellor Bernadette Gray-Little said in a statement. "
Weick received a bachelor's degree in sociology from the University of Oregon before going on to earn a master's degree in social work from the University of California at Berkeley and a doctorate in social policy and planning from Brandeis University in Massachusetts.
In 1992 she was inducted into the KU Women's Hall of Fame.
Weick also served on the City of Lawrence's Task Force on Racism, Discrimination and Human Diversity, and she founded the Lawrence food bank Just Food.
The KU School of Social Welfare will announce details of a memorial service for Weick on the school's website at www.socwel.ku.edu. Weick's family said contributions can be made to the Ann Weick Scholarship Fund in care of KU Endowment, P. O. Box 928, Lawrence, Kan., 66044.
Copyright 2018 The Lawrence Journal-World. All rights reserved. This material may not be published, broadcast, rewritten or redistributed. We strive to uphold our values for every story published.