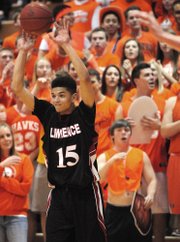 Lawrence High basketball standout Anthony Bonner was excited when, before his sophomore season, he landed his first college scholarship offer from Colorado State University.
He was even more thrilled Monday morning when he told CSU coach Larry Eustachy that he was orally committing to the school.
The 6-foot-2 senior-to-be traveled to Fort Collins with both of his parents last weekend and loved everything about his visit.
"I'm really excited just knowing I found the right place for me and my family," Bonner said Tuesday. "I know I have a lot of support around here, and everyone is behind me with it. I just know I'll be heading into a good program and also a good school for academics, and it'll help me shape my future."
Bonner had visited Fort Collins before, but only for about one day. This time, he stayed for two days and two nights, and it made a difference as he was able to enjoy the visit even more than the first time.
"I got to meet more people and see more," Bonner said. "The people around there are so awesome, man. I felt real comfortable with the coaching staff over the years. The facilities are great. They are first-class. It's a beautiful campus. It's a really nice area to live in."
Bonner averaged 16.1 points and a shot a team-best 41 percent from behind the three-point line last year.
He's not the only LHS product to choose Colorado State. Former Lions basketball star Dorian Green played for the Rams from 2009-13. Bonner sought out Green for advice about the school and area.
"The last two months I've just been basically picking his brain, asking what it's going to be like, what do I need to expect, what kind of attitude do I need to go into it with," Bonner said. "He's been a real big help. I really appreciate all the help he's given me, and it's a credit to him."
Not only did the Rams offer Bonner his first scholarship, but they also stayed hot on his trail. Some of the coaches visited Bonner at his house on Easter, and he committed to the Rams over offers from Florida Gulf Coast, Missouri State and the University of Missouri-Kansas City.
"They stayed always texting me, coming to watch me, coming to my open gyms and stuff," said Bonner, who wanted to commit before his senior season so he didn't have to worry about a decision during his final prep season. "I just really felt loved and that they really believe in me there."
The coaches aren't the only ones who believe in him. He has received plenty of support in Lawrence about his decision through text messages and tweets.
"My phone has been ringing off the hook the last few days," Bonner said. "It feels good. I'm kind of a low-key guy, but it feels good to know that many people are behind me and support me around the city."
Copyright 2018 The Lawrence Journal-World. All rights reserved. This material may not be published, broadcast, rewritten or redistributed. We strive to uphold our values for every story published.