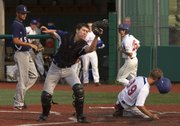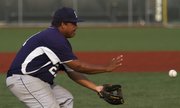 The Lawrence Raiders youth baseball team put up a fight against the Central Missouri Prospects on Friday night at Free State High, but it was too little, too late.
Once again, it was a big inning that put the Raiders in a hole they couldn't escape — a common theme this summer.
The Raiders lost, 7-3, dropping their first three games in the MB Tournament this weekend and continuing a skid in which they've lost 13 of their last 15 games.
"This was a game I was probably as pleased with as I have been in a long time, just on a coaching standpoint," said Raiders coach Brad Romme, whose team had three hits in the final inning. "One crooked inning, one crooked number. Other than that, guys filled in and guys got a couple opportunities late ... overall just pleased with effort."
Briggs Fish drove in Zach Bickling with a run-scoring single to left in the third inning to tie the game, 2-all. Then, in the fourth inning, Central Missouri scored three runs against Raiders' starter Zak McAlister, with a two-run double from Seth Gerady and a sacrifice fly by Branden Beeler.
Central Missouri added a run in the fifth inning, after Kylan Easley hit a leadoff triple, and a run in the sixth, when Gerady hit a leadoff ground-rule double, and the Prospects stretched their lead to 7-2.
In the top of the seventh, the Raiders (10-25) showed some fight with a one-out, pinch-hit double from Doug Easum. Jacob Seratte scored Easum with a single to left, and Bickling followed with a ground-rule double to left to put runners on second and third.
The small rally was enough to make the Prospects sweat. They brought in a new pitcher, but the Raiders' next two batters struck out and grounded out to short to end the game.
Though the Raiders were happy with their comeback mentality in the seventh inning, they haven't been able to put full games together to earn wins.
"It's rough, especially after playing — I know both (Free State and Lawrence High) had pretty good high school seasons — and then to come to this," Seratte said. "It's not what we expected and it's definitely tough to keep a positive mindset going out there every day."
The Raiders are scheduled to play again at 1:30 p.m. today at FSHS against KC Elite.
Raiders 101 000 1 — 3 7 1
Prospects 200 311 x — 7 9 1
L — Zak McAlister.
2B — Doug Easum, Zach Bickling, LAW; Jake Litteken, Seth Gerady (2), CM. 3B — Kylan Easley, CM.
Raiders highlights — Jacob Seratte, 1-for-4, 2 RBI; Briggs Fish, 2-for-4; Nate Hulse, 1-for-2, 2 BB, run.
Copyright 2018 The Lawrence Journal-World. All rights reserved. This material may not be published, broadcast, rewritten or redistributed. We strive to uphold our values for every story published.