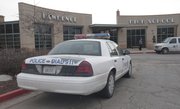 Lawrence police investigated a report of threatening remarks this morning at Lawrence High School. In an email and automated phone message to parents, Julie Boyle, communications director for the school district, said the threat was not found to be credible.
A student overheard inappropriate comments by another student on Wednesday that "caused concern," Boyle said. School officials have initiated disciplinary action against one male student, she said.
Sgt. Trent McKinley, a Lawrence Police Department spokesman, confirmed that the department sent all available units to the school to respond to the report.
"We also appreciate the cooperation of the Lawrence High School community in maintaining a normal school routine today," Boyle's communication to parents said.
Extra police officers were at the school today as a precaution.
Copyright 2018 The Lawrence Journal-World. All rights reserved. This material may not be published, broadcast, rewritten or redistributed. We strive to uphold our values for every story published.