Photo Gallery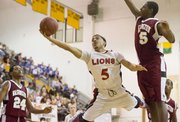 Lawrence High boys basketball vs. KC Washington
Box score
Lawrence High (87)
Justin Roberts 3-10 7-11 13, Connor Henrichs 4-4 2-4 10, Price Morgan 4-9 5-5 13, Ben Rajewski 1-6 1-2 4, Anthony Bonner 8-13 4-5 24, John Barbee 7-14 8-11 23. Totals 27-56 27–38 87.
K.C. Washington (81)
Trayvon Hards 2-3 0-0 4, JaMarkus Dawn 1-4 0-1 2, Shakair Love 0-0 1-2 1, Kalem Harrison 5-7 2-2 12, Robert Johnson 0–2 0-0 0, Marvin Bowens 1-2 0-0 2, Jeremee Bennett 10-21 7-8 32, Demarco Smith 2-2 0-0 4, Wiliam Jefferson 8-12 0-2 16, Sheldon Willis 3-4 2-4 8. Totals 32-57 12-19 81.
KCW 18 16 18 19 10 — 81
LHS 18 16 18 19 16 — 87
Three-point goals: K.C. Washington 5-13 (Bennett 5); Lawrence 6-15 (Bonner 4, Barbee, Rajewski). Fouled out: Dawn, Willis. Turnovers: K.C. Washington 19, Lawrence 8.
Topeka — Lawrence High's boys basketball players had seen this play out before.
Last week, the Lions watched their lead evaporate in the final minutes before eventually losing in overtime. Against Kansas City (Kan.) Washington on Friday at Topeka High, Lawrence's seven-point lead disappeared in the final 2:25 of regulation.
"We thought we had it sealed up and they hit some big shots. We knew after losing to Olathe (East) in overtime (last week) that we were not going to lose again," sophomore Price Morgan said of the Lions' 87-81 overtime victory in the semifinals of the Topeka Invitational Tournament.
Trailing by one point midway through overtime, Anthony Bonner's layup put LHS up by one. After a Wildcats turnover, Justin Roberts was fouled on a layup opportunity and made his two free throws. Roberts then stole the inbounds pass, and the Lions (9-2) were able to hit nearly all of their free throws to outlast the Wildcats (6-4).
"You've got to regroup, get your composure and go out and take care of business. I thought our guys did a nice job of that," Lawrence coach Mike Lewis said. "I'll tell you what, it's a great game to have in January, because I hope we can learn from it and it makes us a better team down the road."
K.C. Washington did its best to stop Lawrence's top-scoring guards, Roberts and Bonner, from beating them in the second half. The Wildcats played a triangle-and-two defense, which was designed to keep the two guards away from the ball with a full-court defense.
However, with the game tied at 52 to begin the fourth quarter, junior John Barbee scored eight points to lead the Lions to a 12-3 run over four minutes. Barbee also grabbed two of his game-high seven steals in the stretch.
"John Barbee had a huge game," Lewis said. "Just his defensive energy. He had some early jump shots but he was huge for us. I mean, he fought and played hard. I'm really proud of him."
The Wildcats scored on seven straight possessions late in the fourth quarter to tie the game with 44.6 seconds remaining. Both teams traded two made free throws and turnovers before Barbee missed a jumper from the free-throw line at the buzzer.
"Coach just kept saying, 'Composure, composure,'" said Bonner, who finished with a team-high 24 points. "They didn't lose confidence in us once. They kept telling us, 'We're good and we're all right.'"
To begin overtime, Morgan tipped the jump ball to Roberts, who scored on a layup. On the next posession, Morgan converted a layup of his own, but K.C. Washington's Jeremee Bennett put the Wildcats up one by scoring five of his game-high 32 points over the next two possessions.
Afterward it was all Lawrence as the Lions went 10-of-14 from the free-throw line down the stretch.
"Man, we had to earn it. We really had to fight," Lewis said. "(K.C. Washington is) a great team, they had a great strategy against us tonight. We tried to dig in there, get creative and find a way to win it. I thought our guys did a nice job of being coached on the fly and being able to make some adjustments on both offense and defense."
Barbee led the Lions with eight points in the first quarter, and Bonner scored nine points in the second quarter. But the Wildcats were able to keep the score tied at the end of each quarter until overtime.
The Lions will face Topeka Highland Park today at 5:15 p.m. in the tournament championship. It's a rematch from the Blue Valley Shootout championship earlier this year, when the Lions lost 60-56.
"That's exactly who I want to play," Bonner said. "There's no other team I want to play. ... It'd be great to play Highland Park, come in and beat them on their home turf."
Copyright 2018 The Lawrence Journal-World. All rights reserved. This material may not be published, broadcast, rewritten or redistributed. We strive to uphold our values for every story published.