Contact KU and higher ed reporter Sara Shepherd
Have a tip or story idea?
---
More stories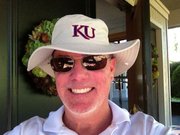 Frederick "Beau" Gould's father and grandfather both went through law school at Kansas University. His mother, sister and aunt attended the university as well.
When Gould himself decided to go to law school, he only applied to one: KU. He knew where he wanted to go, though he wasn't sure how he would pay for it. And then, as Gould tells it, "A guy walked up to me and told me I had received a scholarship on the first day of school, and I was like, 'Thank the Lord Jesus."
Now the owner of multiple businesses in Seattle, Gould decided to repay the favor by giving $1 million to the KU School of Law to create a new scholarship for students, the university announced Tuesday. The gift is the largest outright in the law school's history.
With the money, Gould and his wife, Julie, established the Gould Family Scholarship through the KU Endowment Association. Stephen Mazza, dean of the law school, said the scholarships would likely be distributed to students based on merit and financial need.
The scholarships will be available to students beginning in the fall 2014 semester and could help the law school in recruitment efforts. "What scholarships allow us to do is attract the very best and brightest students to come to the University of Kansas," Mazza said.

Gould began at the KU law school after a career in broadcast that began when he was just 12. Once he graduated with his law degree in 1989, he took a job at a Seattle firm specializing in real estate law. But it didn't take long for Gould to decide on another change of path.
"I figured out over the course of a few years working as a lawyer that my clients were making way more money than I was," he said.
Today Gould owns real estate management and investment companies, along with other businesses. He's given a lot of money away to charities and other organizations, but Gould said the gift to the KU law school was especially gratifying.
"I really came out of that place a lot smarter guy than when I went in. That's what it's all about. It makes me so happy to give that same opportunity to someone else."
Copyright 2018 The Lawrence Journal-World. All rights reserved. This material may not be published, broadcast, rewritten or redistributed. We strive to uphold our values for every story published.