Photo Gallery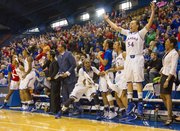 KU women vs. Baylor
Related document

KU-Baylor women's box ( .PDF )
In desperate need of a victory that could turn around its season, Kansas University's women's basketball team might have earned just that Sunday afternoon, upsetting No. 7 Baylor, 76-60, at Allen Fieldhouse.
Even though KU had lost four of its last five games, including a 22-point loss at Baylor two weeks earlier, coach Bonnie Henrickson said her players bought in to the idea they could beat one of the nation's elite teams.
"It is not who you play, it is not where you play, but it matters how you play," Henrickson said. "I thought we played well, and we obviously did enough to give ourselves a chance to win."
The Jayhawks, who entered the game with a losing record, found a balance between loose and assertive in their second-half approach, and junior forward Chelsea Gardner scored 15 of her team-leading 28 points in the final 20 minutes to snap not only KU's eight-game losing streak against the Bears, but also, more significantly, Baylor's Big 12 winning streaks of 44 games in the regular season and 53 games overall.
The Jayhawks took a straight-forward approach: make someone not named Odyssey Sims beat them.
One of the most talented players in the country, the 5-foot-8 junior guard couldn't be stopped in the first half, scoring 21 of her 31 points to help the Bears (14-3 overall, 4-1 Big 12) hold a 32-31 halftime edge. But she missed 15 of her 19 shots in the second half, when KU limited BU to 11-for-38 shooting (28.9 percent).
In past seasons, when Kansas faced Baylor, the Jayhawks had to pack it in defensively against 6-foot-8 Brittney Griner, now in the WNBA. KU senior guard CeCe Harper said the upset-minded Jayhawks liked their diamond-and-one defense, which focused on slowing Sims and trapping her at times, because they could pick their poison and see if some of her teammates would step up.
They didn't. Only six players besides Sims even took shots, and the superstar's teammates combined to hit just 11 of 42 field goals (26.1 percent).
"When it was out of her hands," Harper said, "people were taking shots they weren't comfortable taking, and she was having to get rid of it a lot more than she's used to. I think the traps worked well, because we were catching her off guard a lot. She would have to pull it back or just get uncomfortable."
Said Baylor coach Kim Mulkey: "We didn't give Odyssey much help. She battled, but we just couldn't score the ball."
Mulkey, whose Bears won national titles in 2005 and 2012, didn't like the way her players had prepared for their return to Big 12 play at KU, following a Monday home loss to No. 1 Connecticut. Just the other day, the 14th-year coach ended practice by throwing out the entire team.
"I saw this coming. I've been around the game a long time," Mulkey said. "I bet their attention was gotten tonight."
The Jayhawks (9-9, 2-4) made it back to .500 by making 14 of their 26 second-half shots (53.8 percent). Henrickson likes to tell her players to remind themselves of some keys to easy offense each night before they go to bed.
"Talk yourself into getting to the free-throw line," the coach said. "Run in transition, go to the glass offensively, drive it in the paint and throw it inside. If you do those four things, you'll get attempts like we had, the numbers we got today."
The Jayhawks trailed 15-4 early on and by eight with less than three minutes left in the first half. But junior point guard Natalie Knight knocked down a three-pointer, Gardner scored in the paint, and both freshman Keyla Morgan and junior Asia Boyd converted a pair of free throws to help KU rattle off nine straight points and take a brief 31-30 lead with 21 seconds to go until halftime.
Bears freshman guard Ieshia Small made a layup with three seconds left to give Baylor a 32-31 edge entering the break.
Knight scored nine of her 18 in the second half, and Harper poured in eight of her 10 after halftime, including two critical fast-break layups in the final six minutes.
The lead changed nine times in the opening minutes of the second half before Kansas took control.
With KU already up a point, backup guard Boyd drilled a three, then scored a layup on the next possession to build the Jayhawks' lead to 53-47 with 9:47 left. Substitute forward Caelynn Manning-Allen added to the cushion with a lay-in the following trip down the floor, and Kansas led, 55-48, with 9:13 on the clock.
Just more than a minute later, and up by five, Kansas got a break when Baylor forward Sune Agbuke fouled Morgan for her fifth personal, then Mulkey earned a technical foul for questioning the call. Knight hit both technical free throws, and Morgan made one of two, pushing the Jayhawks' lead to 60-52.
Harper's fast-break layup with 5:31 to go made it a 64-43 KU lead. After back-to-back baskets in the paint from Gardner (both assisted by Knight), Harper scored and drew a foul in transition with 3:59 left. Her three-point play made it 70-58, Kansas.
Gardner was sure to get the most out of her opportunities late in the game to help Kansas earn a marquee victory.
"I knew I had to be more aggressive," the 6-foot-3 forward said, "and after seeing number 22 (Sune Aagbuke) got in foul trouble, I knew I could get open looks and open shots."
Sims said Baylor failed to keep pace with Kansas.
"We didn't play good," she said after hitting just 13 of her 37 shots. "The second half we came out trading buckets. We couldn't get two or three stops in a row."
Added Mulkey: "They just took it right at us, they got to the foul line. And that's usually something that we do."
Knight said the Jayhawks had plenty to learn from their first victory of the season against a team ranked in the top 25.
"If we play hard we can play with anybody," Knight said. "We've struggled lately, and I think this game was really good for us, confidence-wise, and (gives us) momentum for the next game and the game after that. I just think, mentally, this game was really good for everybody. We just wanted to play hard and we had nothing to lose."
The Jayhawks play host to Oklahoma State at 7 p.m. Wednesday.
Copyright 2018 The Lawrence Journal-World. All rights reserved. This material may not be published, broadcast, rewritten or redistributed. We strive to uphold our values for every story published.