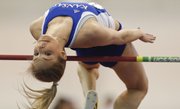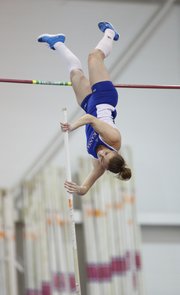 On Thursday, Kansas University track stars Lindsay Vollmer and Natalia Bartnovskaya were named to the 10-woman preseason Bowerman Watch List, an honor considered by those in the track world as the "Heisman of Track and Field."
Friday, at the annual Bill Easton Classic at Anschutz Pavillion, the KU standouts who helped the women's team hang an outdoor national championship banner in 2013 showed they belonged on that list by stealing the show right out of the blocks.
Competing less than 50 feet apart in two of the first events of the day, Bartnovskaya, a senior pole vaulter, and Vollmer, a junior high jumper, kicked off their home seasons with back-to-back championships in their signature events.
Bartnovskaya claimed hers first with a jump of 13 feet, 7.25 inches, which tied the best indoor female mark in the country this season.
Vollmer, who won the individual outdoor heptathlon title last spring, went one better by recording a personal record of 5 feet, 11 inches, bettering her old top mark by more than two inches.
Asked if setting a new PR so early in the season surprised her, Vollmer revealed a bit of the dedication and determination that make her a legitimate threat to repeat all of what she accomplished a year ago and then some.
"I think it's just me trying to prove to myself that what happened wasn't a fluke," said Vollmer, who also finished second and PR'd in the 60-meter hurdles in 8.47 seconds. "I wanted to come out here and try to make improvements and try to keep pushing forward because I don't want to settle on last year."
There was no settling Friday. After clearing 5-3, 5-5 and 5-7 on her first attempts, Vollmer needed all three tries to clear 5-9, which was a quarter-inch higher than her previous best. The bar wobbled ever so slightly on each attempt but stayed in place following the final try, which inspired Vollmer to jump off the mat and clap her hands together. Juiced by the new mark, she needed just two tries at 5-11 and narrowly missed all three attempts at 6 feet, one-half inch.
"After I made 5-9, I was like, 'OK, I've got nothing to lose so let's go for it,'" she said. "It all just happened to come together, which is really cool. It's a nice feeling, and I hope I can keep repeating that to be consistent. That was a really good surprise, and it's just a great way to start the year."
Vertical-jumps coach Tom Hays marveled at Vollmer's monster day and credited fellow assistant Wayne Pate for helping Vollmer add strength in the offseason. He also said the entire coaching staff now has learned not to be surprised by anything Vollmer accomplishes.
"Her being kind of a veteran now, she goes right back to where she stopped and kind of keeps going," Hays said. "It's gonna be kind of cool to watch."
Vollmer's jump was the third-best indoor mark in KU history, the third-best indoor mark in the country this season and the best jump by a Jayhawk female since 1993.
That it came under the watchful eye of the shiny red national championship banner that now hangs at the south end of the venue — the only one of its kind — only made things sweeter.
"It was a different experience," Vollmer said. "And it just kind of shows anyone who comes in here that, 'Hey, Kansas is here and we're here to stay.' And hopefully it ups our intimidation factor."
Added Bartnovskaya: "I look up there (at the banner) every practice, but I didn't really look today because I was really focused on what I needed to do."
In other events at Friday's meet:
— Former Olympian Diamond Dixon, a senior, won the 600 in 1:21.15, which is the best time in the nation this season and the third-best time in school history.
— Junior Colleen O'Brien finished second to Vollmer in the high jump by clearing 5-9.
— Sophomore pole vaulter Jake Albright won with a PR clearance of 17 feet, 1 inch. Albright was one of five Jayhawks to finish in the event's top eight
— Sophomore Tianna Valentine won the 60-meter dash in 7.47 seconds, and freshman Zainab Sanni claimed second in 7.54.
— Junior Michael Stigler won the men's 60-meter hurdles in 8.14 seconds. Later in the day, Stigler also won the men's 400-meter title in 48.75.
— Free State High grad and KU junior Austin Hoag PR'd in the high jump at 6 feet, 10.75 inches.
— Freshman Nashia Baker won the women's 3K in 10:22.83. Her sister, Malika Baker, also a freshman, finished third in 10:29.06.
— In the final event of the night, Stigler joined teammates DeMario Johnson, Dominique Manley and Kenneth McCuin to win the 4x400-meter relay in a season-best time of 3:15.08.
Copyright 2018 The Lawrence Journal-World. All rights reserved. This material may not be published, broadcast, rewritten or redistributed. We strive to uphold our values for every story published.