Is there such a thing as a grilled cheese season? Perhaps not. But being deep into the throes of winter, there may not be a better time of year to munch down the classic sandwich and dunk it into a bowl of soup.
It may be a basic meal, but Lawrence's food professionals know how to put their own little twist on it — with their own blends of cheese and other assorted ingredients. Here's how six local restaurants serve the classic sandwich.
Greek Grilled Cheese
Where to get it: Mad Greek, 907 Massachusetts St.
What you get: It comes with kasseri, a traditional Greek cheese, melted together with feta, tomato, herbs and aioli sauce. It comes with fries.
What you'll pay: $8.99
Try it with: For an extra dollar, get the fries with Greek herbs and feta on top.
The Shire
Where to get it: Pachamama's, 800 New Hampshire St.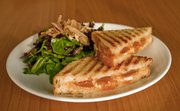 What you get: This one's got a sweeter side. It comes with quince in paste form, which carries an apple-like flavor. Cheddar, blue and Manchego make up the current roster of cheeses (it alternates). Sourdough bread bookends it all, and a salad comes in tow.
What you'll pay: $6
Try it with: A fried egg or apple-smoked bacon.
Say Cheese
Where to get it: Java Break, 17 E. Seventh St.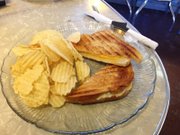 What you get: It's mostly up to you. Cheddar, mozzarella and cream cheese on sourdough is the foundation. From there, you choose up to three veggie or sauce additions, including jalapeños, buffalo sauce, peppers, carrots, black olives and more. Chips round out the rest of the dish.
What you'll pay: $6.75
Try it with: The jalapeños are one of the more popular add-ons, said manager Preston Burton.
Three Cheese Sandwich and Soup
Where to get it: Free State Brewing Company, 636 Massachusetts St.
What you get: Brie, cheddar and provolone compose this more traditional sandwich, which comes packaged in sourdough bread from WheatFields Bakery Cafe. Tomato and herb soup accompanies this one to complete the classic couple.
What you'll pay: $8.25
Try it with: Harold Beckerman, Free State's kitchen manager, likes to add some goat cheese to his.
Grilled Cheese Sammy
Where to get it: The Roost, 920 Massachusetts St.
What you get: Four cheeses: chevre, Boursin, provolone and cheddar on sourdough. As a side, a choice between chips and the proverbial cup of soup.
What you'll pay: $8
Try it with: Pecanwood smoked bacon.
Three Cheese Melt
Where to get it: WheatFields Bakery Cafe, 904 Vermont St.
What you get: There are three slices of sourdough bread given to handle the cheese load. You get three choices among white cheddar, mozzarella, Maytag blue and Manchego. There's also a pickle in the mix.
What you'll pay: $6.75
Try it with: Employee Rena Detrixhe recommends soup, specifically the Curried-Carrot and Ginger Soup, to pair with the sandwich.
Copyright 2018 The Lawrence Journal-World. All rights reserved. This material may not be published, broadcast, rewritten or redistributed. We strive to uphold our values for every story published.