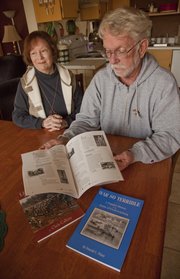 Lawrence residents Don and Norma Pierce met years ago as co-workers at a Tulsa, Okla., newspaper where Don was a photojournalist and Norma a feature writer. A good first impression by Don and some strategy by Norma paved the way for a marriage and working relationship that continues today.
"I would make my assignments when I knew it was his time to work," Norma Pierce said.
These days time to work begins at sunrise in the couple's Northeast Lawrence home where the Pierces publish civilwartraveler.com, a website of event listings, essays and photography related to Civil War history across the country.
They say their goal is to list every Civil War site and commemorative event in the county that is open to the public. Don produces editorial content, including photography, and handles ad sales while Norma designs, copy edits and is the webmaster and bookkeeper. The site listed nearly 1,500 events for 2013.
A tabloid-format newspaper preceded the website. The Pierces, citing Google data, say civilwartraveler.com drew more than 343,000 unique visitors from Nov. 1, 2012 to Oct. 31, 2013, with more than 1.1 million total page views. The site also has a monthly e-news service with about 6,100 subscribers and a Facebook page with nearly 2,000 friends.
The Pierces moved to Lawrence from Civil War-site-rich Virginia more than a year ago. But it isn't as if their recent move west signified a move away from historical markers of the Civil War. Between locations like Osawatomie and Lecompton, Don Pierce said, there is a rich amount of Civil War history nearby. "And of course you can't escape Quantrill's Raid," he added.
Next up for the site, like many media ventures, is a planned shift toward more mobile-friendly content and designs. Last year Norma Pierce noticed that 34 percent of their site's traffic came from a mobile device (20 percent) or tablet (14 percent).
Without divulging the site's revenues, the Pierces say that while they're not netting media mogul money, the venture has held up nicely as it approaches its third decade of existence.
"We are making a living," Don Pierce said.
Copyright 2018 The Lawrence Journal-World. All rights reserved. This material may not be published, broadcast, rewritten or redistributed. We strive to uphold our values for every story published.