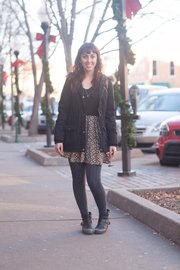 Name: Kelsey Ranjbar
Age: 18
Hometown: Lawrence but currently living in Boston.
Occupation: I'm a student at The Boston Conservatory for vocal performance.
Dream job: Hopefully (singing) opera in a major city.
What were you doing when scouted? Shopping! We just came out of Wild Man Vintage.
Describe your style: I just wear whatever I think looks good. Other than that, I don't really have a specific aesthetic. I just try to keep it classy.
Fashion trends you love: I love skirts, tights and dresses!
Fashion trends you hate: Showing too much midriff!
Fashion influences: When I lived here in Lawrence, it would be what I would see around town, and I would steal things that I liked. I can't really point to any specific pop culture that I'm trying to emulate. I just see things and I take the bits I like.
What would you like to see more or less of in Lawrence? I would like to see downtown stay downtown. I keep hearing rumors of big businesses or large buildings that are going to take away the feeling of downtown. I don't want to see that happen. I want local businesses and the art scene to stay nice.
Whom do people say you look like? A few people have told me that I look exactly like Lady Gaga.
What type of music do you like? It depends on my mood ­— a wide variety. I've been into punk lately but sometimes I feel like some Django Reinhardt, Sam Cook and, that's right, classical music!
Tell us a secret: Usually people are shocked when they hear that I don't like cheesecake!
Copyright 2018 The Lawrence Journal-World. All rights reserved. This material may not be published, broadcast, rewritten or redistributed. We strive to uphold our values for every story published.