Photo Gallery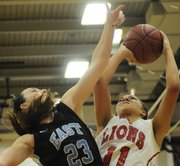 Lawrence High girls basketball vs. Shawnee Mission East
With leading scorer Kionna Coleman sidelined because of a disciplinary suspension and starting point guard Marissa Pope in street clothes because of an injury, the Lawrence High girls basketball team simply could not keep up with Shawnee Mission East during a 37-25 loss on Tuesday night at LHS.
The Lions (6-13) and Lancers traded buckets for much of the first half, and junior Jolona Shield helped keep LHS close with three first-half three-pointers.
LHS trailed by just two at the break — 20-18 — but emerged from the locker room unable to create much offense in the final two quarters. LHS scored just seven points and two field goals in the second half, a direct result of not having Coleman and Pope, who all season had been able to create offense even when the Lions had trouble getting into their sets.
"We just really struggled to get anything going in the second half," said LHS coach Nick Wood, who added that he entered the game knowing offense could be an issue.
The Lancers were not much more explosive but were more efficient and consistent and used a strong third quarter to gain some separation.
Shield's nine points led the Lions, who honored seniors Hailey Belcher and Makayla Bell after the two played their final games in the LHS gym.
LHS will close out the regular season Friday at Free State in Round 2 of the City Showdown. In the first meeting between the two city rivals, Free State knocked off Lawrence, 60-56, in a hard-fought December game at LHS.
Wood said he expected Coleman would play against the Firebirds.
Copyright 2018 The Lawrence Journal-World. All rights reserved. This material may not be published, broadcast, rewritten or redistributed. We strive to uphold our values for every story published.