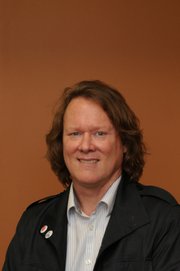 John Bode, a third grade teacher at New York School in Lawrence, is among seven teachers in Kansas to receive a 2014 Kansas Master Teacher Award, honoring outstanding educators in the state.
Bode was nominated in December when he was named the Lawrence school district's 2013-2014 Master Teacher. He has taught in the Lawrence district since 1995.
The award will be presented April 2 during ceremonies at Emporia State University. The Kansas Master Teacher Awards Dinner is scheduled for 6:30 p.m. in Webb Hall in the Memorial Union on the ESU campus.
Bode is the third teacher from the Lawrence district to receive a Kansas Master Teacher award. Kathy Bowen, a gifted-education facilitator at Sunset Hill and Hillcrest schools received the award in 2013. Kendra Metz, a Southwest Middle School language arts and reading teacher, received one in 2012.
Copyright 2018 The Lawrence Journal-World. All rights reserved. This material may not be published, broadcast, rewritten or redistributed. We strive to uphold our values for every story published.