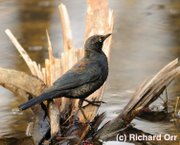 Growing up on a farm in southeast Kansas inspired a lifelong interest in nature for Lawrence resident Gary Anderson.
About eight years ago, this interest, coupled with a desire to get outdoors more often, drove Anderson to the Jayhawk Audubon Society. Now he serves as president.
Right as the temperatures begin to rise each year, Anderson and other Audubon members go into the field to observe waterfowl, monitor early springtime migrants and listen to the welcoming sounds of bird chatter. This spring, the group has been tasked with a more crucial endeavor: tracking the Rusty Blackbird, a species that has experienced one of the steepest population declines ever documented among North American land birds.
"The population has taken a hit over the last 50 years," Anderson said. "I see this as an opportunity for our members to help out and learn about a bird we don't know much about."
The Jayhawk Audubon Society will participate in an international effort called the Spring Migration Blitz, which encourages birders to document the stopping locations of Rusty Blackbirds, or "Rusties," from March to June as they fly northward from their winter habitat in the southeastern United States toward their breeding ground in Canada.
Volunteers in Kansas are asked to track Rusties in March and submit their findings to eBird, an online program that collects and organizes bird-tracking observations. eBird, along with the International Rusty Blackbird Working Group and the Vermont Center for Ecostudies, organized the Spring Migration Blitz to gain information about Rusties that could help scientists pinpoint causes for their decline. This year's effort is planned as the first of three consecutive annual blitzes.
Lawrence resident Valerie Arkell, an environmental scientist involved with the Jayhawk Audubon Society, is the Kansas blitz coordinator.
"The whole effort is to figure out where their migration stopovers are and what could be happening at those spots to be affecting them negatively," Arkell said. "You can't really do anything to help until you know."
According to the International Rusty Blackbird Working Group, scientists have only recently become aware of problems with the bird's population, which has fallen 85 to 95 percent since the mid 1900s. Experts estimate there are anywhere from 160,000 to 2 million Rusties left.
Though there is little certainty, experts have developed hypotheses for factors leading to the population decline, including the species' lack of adaptability, the loss of wooded wetlands in their wintering grounds, increased competition for food and exposure to disease.
"They're finding that this bird is very picky, so it's having a hard time finding places to stay," Arkell said. "They're also saying things like climate change might be a factor. Places they used to go are drying up, and that's no longer going to be a habitat they want to go to."
Arkell said Rusties prefer wet, swampy, hidden areas for foraging. Around Lawrence, she said, the birds may flock to the Baker Wetlands, Perry Lake, Clinton Lake or Lonestar Lake.
Anderson and other members of the Jayhawk Audubon plan to visit these locations in early March. The field trips will be open to the public at no cost.
Rusties get their name from their plumage, which is edged with a rusty brown color during the fall and early winter, according to the working group. However, the rusty color will be gone by the time they enter Kansas in March, and they will be mostly black, Arkell said.
Because they appear similar to other blackbirds that they travel with, such as the Common Grackle, Anderson said the Audubon would compile identification kits.
"Just looking at the photos myself, I said 'gee whiz,' I thought I had never seen a Rusty Blackbird, but I wonder if I have mistaken them for Grackles or something like that," Anderson said.
Copyright 2018 The Lawrence Journal-World. All rights reserved. This material may not be published, broadcast, rewritten or redistributed. We strive to uphold our values for every story published.