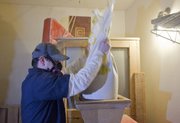 I knew it. I knew you could use a whirlpool to make beer.
And now here I am standing in the brew room of Lawrence's famed Free State Brewery with downtown head brewer Geoff Deman, and he tells me that we are about to begin the whirlpool stage of the brewing process.
Here we go. Vindication.
Uh, oh. Maybe I really do owe my wife an apology for the mess I made at the house, because this doesn't look anything like the whirlpool I used. Deman brings out a paddle, or an oar, and uses it to stir the boiling liquid in this brick-insulated kettle.
We're trying to swirl the liquid so the solids will congregate in the middle and allow the liquid goodness to flow away and become beer. In other words, we're trying to create a whirlpool effect. Emphasis on effect. Now he tells me.
That's what I've learned from my stay here in the brewing room: There has to be at least a thousand different ways to screw up brewing beer. I've also learned this: These guys don't screw it up. They wouldn't have lasted this long if they had.
Lawrence's Free State Brewing Co. turns 25 years old today. It is a birthday for what not only has become a Lawrence landmark but also a pioneer in the national brew pub industry.
"When Free State was started, there were only about 100 breweries in the entire country," Deman says. "Now there are about 2,700. It has worked pretty well."
•••
There's been a quarter-century of brewing beer here. Many of us have seen glimpses of it through the big window that is behind the bar at Free State's downtown brewery, 636 Massachusetts St. But I thought it was time to get a look from the other side of the glass.
Much of it is as you would expect. The pungent aroma of hops. Some from the Pacific Northwest and some from Germany, France and Australia. Kernels of cracked barley malt. Most of it from Minnesota. And scrubbed stainless steel nearly everywhere.
"About 80 percent of this job is cleaning," Deman said.
No brewer really finds cleaning all that enjoyable, which means the other 20 percent must be really good.
"This is the best job in the world," Deman says.
As Deman says, he doesn't make Fortune 500 CEO wages. But then again, Fortune 500 CEOs aren't making beer, so it evens out.
"You have to have a good spirit about you to make good beer," Deman says.
For some reason, I had expected that as well. What I didn't expect was that this is a place of so many words. Take a gander: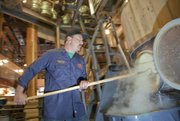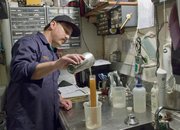 • Wort. This is an important one, and I'm all over it. I shall use it in a sentence.
"Wort these kegs fuller last night?"
I'm told that's technically an alternative definition. More commonly it refers to the sweet liquid that comes from the combining of the malted barley and hot water. Today, we're making a batch of Blue Collar Lager. We'll use about 850 pounds of grain to make the 434 gallons of beer a batch produces.
• Hot liquor. I'm ever the optimist, but no, I got that wrong too. It is what brewers call the water used in the process. It is charcoal filtered and it comes from a solar powered water tank on the roof.
• Knock out. Now, I'm just nervous. But there was no pain involved. Knock out is the phrase used for rapidly cooling down the wort as it comes out of the kettle. In the process of about 30 minutes, a chilling device takes the 200-degree liquid down to about 70 degrees for an ale and about 50 degrees for a lager. From there, the liquid will sit in a stainless steel tank where yeast is added. It will be about three to four weeks before we're ready to drink this lager.
• Vorlauf. Heck, I don't know what that means. It is a real thing, but it took me two Ad Astra Ales just to spell it right. Heaven help me if I have to pronounce it.
•••
A few other words come to the mind of Free State founder Chuck Magerl. Administrative duties have long since taken Magerl out of the day-to-day brewing operations. And his personality is such that he would rather talk about how Deman and longtime director of brewing operations Steve Bradt are far superior brewers.
It causes Deman to laugh a bit. Magerl and longtime friend Dan Carey came up with the recipe for Free State's first beer, Ad Astra Ale. As Deman notes, it is on the menu all these years later, is bottled by the thousands and still pays an awful lot of bills around this place.
Regardless, brewing terms aren't the words that fill Magerl's mind these days. Maybe these are the true words of Free State Brewery.
• Faith. Magerl had to get a Prohibition-era state law changed before he could even open the brewery in 1989. He was naive enough to think he could get the law changed in one legislative session. But guess what? He did, with the help of then Lawrence senator Wint Winter and others. Magerl is not sure he could do it now. No is an easier answer these days, he says.
"This whole thing was a great leap of faith," Magerl says.
• Gratitude. Three employees have been with Free State for the entire 25 years: General managers Alex Hamilton and Debbie Fey, and Bradt, the director of brewing who now holds national leadership positions in the brewing industry. And there's Magerl's wife, Joey. Tough to put into words all she's done, Magerl says. There's a host of others too. Magerl would turn this into an Oscar speech, if I let him. Suffice to say, all those and more are expected to be at the brewery at 5:25 p.m. today. Magerl is planning to give everyone at the brewery at that time a free piece of birthday cake.
"I don't spend a lot of time looking back," says Magerl. "But I think this one will be a little bit of an emotional moment."
• Community. This word seems to echo about the place. Plenty of others besides Magerl say it. In fact, Deman says it is a big part of why he feels his job is important.
"This is a place where people can come together and share memories," Deman says. "It is clear to everyone that was Chuck's vision. He wanted a place that was a touchstone in the community."
Twenty five years later, there's been a lot to see through the brewing room's big picture window that looks out over the bar, Magerl says. Wedding proposals, birthdays, anniversaries.
"I'm just so grateful," Magerl says. "People share moments of their lives with us."
A nice thought. It causes me to think of one other Free State word. It is uttered often. All you have to do is catch the eye of the barkeep, and the word becomes like magic.
Another. Another one. Another 25 years.
— Each Sunday, Lawhorn's Lawrence focuses on the people, places or past of Lawrence and the surrounding area. If you have a story idea, send it to Chad at clawhorn@ljworld.com.
Copyright 2018 The Lawrence Journal-World. All rights reserved. This material may not be published, broadcast, rewritten or redistributed. We strive to uphold our values for every story published.