• The Kansas University Small Business Development Center will hold a free seminar for start-up entrepreneurs Feb. 19. The seminar, "Exploring Entrepreneurship," will run from 6 to 8 p.m. at the center's office, 646 Vermont St., suite 200. It will touch on permits, licenses, taxes, marketing and business plan writing. To sign up for the event, call 843-8844 or visit www.facebook.com/kuksbdc.
• Bridge Haven has promoted Sarah Randolph to executive director. Randolph acted as Bridge Haven's associate director for nearly two years and has worked in healthcare for 10. Bridge Haven specializes in family-style assisted living and memory care.
• Sunflower Bank has hired Michael Hammersmith as a wealth management advisor.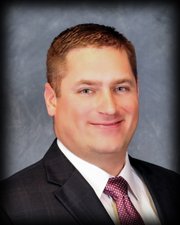 Hammersmith will serve clients in the Junction City, Lawrence, Manhattan, Topeka and Leeton, Mo. areas. He eared a business administration degree from Washburn University.
• Delta Epsilon Iota, a career-focused academic honor society, will feature Daniel Seddiqui at a free event Feb. 19. Seddiqui will talk about his experience working 50 jobs in 50 weeks in 50 states. The event will run from 7 to 8:30 p.m. in the Big 12 Room of the Kansas Union.
• Callahan Creek announced the additions of Sarah Gibbins and Lisa Drossart to its staff. Gibbins will be a senior account manager after serving four years at Mirrorball, Inc. in New York. Drossart, a graduate of the University of Wisconsin-Madison, will be an account manager. Callahan Creek is a marketing agency for specialty brands with offices in Lawrence and Torrance, Calif.
Copyright 2018 The Lawrence Journal-World. All rights reserved. This material may not be published, broadcast, rewritten or redistributed. We strive to uphold our values for every story published.