Photo Gallery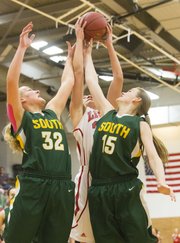 Lawrence High girls basketball vs. Shawnee Mission South
Box Score
SM South (71)
Megan Stollsteimer 2-4 5-6 9, Sierra Roberts 5-11 5-8 18, Sam Kilzer 0-0 0-0 0, Allison Hines 11-16 3-5 28, Ashlie Fischer 1-8 0-0 2, Nikki Norton 1-2 2-2 4, Elizabeth Holmes 2-3 1-3 6, Taylor Cossairt 1-4 0-1 2, Clara Sitas 1-2 0-0 2. Totals 24-51 17-25 71.
Lawrence (52)
Skylar Drum 1-4 0-0 2, Makayla Bell 5-10 1-2 11, Marissa Pope 5-7 2-5 12, Kionna Coleman 7-18 6-8 20, Jolona Shield 1-12 1-2 4, Jaycie Bishop 0-3 1-2 1, Hailey Belcher 1-6 0-0 2, Matia Finley 0-0 0-0 0, Brook Sumonja 0-3 0-0 0. Totals 20-61 11-19 52.
SMS 22 19 17 13 — 71
LHS 16 12 4 20 — 52
Three-point goals: SMS 6-19 (Hines 3, Roberts 2, Holmes), LHS 1-22 (Shield). Fouled out: None. Turnovers: SMS 17, LHS 15.
By the time Lawrence High's girls basketball team finished its 71-52 home loss to Shawnee Mission South Friday night, coach Nick Wood had moved past the 41 shots the Lions missed.
In fact, a 33-percent shooting night was the least of the coach's concerns.
Wood couldn't fathom the way LHS (4-10) had broken down defensively, allowing the Raiders (8-6) open lanes to the hoop, not only in the half court, but also against pressure defense.
So even though SMS finally hit a lull in the third quarter, the Lions couldn't capitalize.
"We had to take off our pressure defense," Wood said, "because we just weren't being successful whatsoever. It was more of a detriment than an asset to us."
LHS opted, instead, for half-court defense.
"It's frustrating, because (pressure) has been our identity all season long," Wood said, "and for some reason tonight we came out with no energy. We were flat in that first half, and it was the worst defensive performance I've probably ever seen in my life (SMS made 17 of 32 shots). That's on me that I didn't have them ready to play."
Going 1-for-9 from the floor in the third quarter just made things worse for LHS, which trailed by 13 at the half, but entered the fourth quarter down 26. While Lawrence senior forward Makayla Bell scored her team's only basket in the third, Raiders senior guard Allison Hines (game-high 28 points) drilled three three-pointers in a row in the final four minutes of the quarter.
By the time the Lions found some offensive rhythm in the fourth, by hitting their first six shots, it was far too late.
Senior forward Kionna Coleman scored 10 of her 20 in the final quarter and finished with 12 rebounds for a double-double. Junior point guard Marissa Pope scored five of her 12 in the last eight minutes, and finished with four assists. Bell finished with 11 points and seven rebounds.
"We had plenty of looks all game long," Wood said. "It wasn't an offensive issue at all. It's just that defensively we were so bad that it didn't allow us to be successful."
Copyright 2018 The Lawrence Journal-World. All rights reserved. This material may not be published, broadcast, rewritten or redistributed. We strive to uphold our values for every story published.