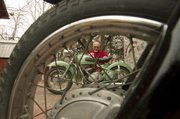 At the fifth annual Mid-Winter Vintage Motorcycle Show and Swap Meet on Sunday afternoon, attendees navigated a crowded building, observing the 62 antique bikes on display.
Throughout the show, a constant stream of people grouped around one motorcycle in particular: a 1911 single-cylinder Pierce.
"I like that one," said one onlooker, as she jotted the motorcycle's assigned number onto her ballot.
More than 700 people attended the show, which was hosted by the Santa Fe Trail chapter of the Antique Motorcycle Club of America and held inside Building 21 at the Douglas County Fairgrounds.

Those in attendance voted for their favorite antique motorcycles in each of seven categories, including racing bikes, a division highlighted at this year's event.

The 1911 Pierce, owned by Tim Thoele of Kansas City, Kan., was awarded the trophy for Best in Show.
According to the Pierce-Arrow Society, the motorcycle was made by the Pierce Cycle Company, an offshoot of Pierce Arrow Company, an early car manufacturer. Pierce stopped production of its single- and four-cylinder motorcycles in 1913 after just four years of making them.
"It's a very rare bike," said Jim Sneegas, organizer of the event. "I wish I knew where he comes up with these bikes. He has some pretty neat old machines."
People knelt next to the Pierce for a closer inspection on Sunday, and many took photos of the large leather belt that drives the rear wheel.
A few people stopped to talk to Thoele about his bike — its history, how he built it and what it's like to drive.
"People never get a chance to see any of this stuff, they don't know anything about them," Thoele said. "It's old and strange, so that's why I brought it out here."
Thoele came across a Pierce single-cylinder engine at a swap meet in Davenport, Iowa, in 2005. He had already rebuilt several motorcycles in the same era, and decided to give the Pierce a try.
More than six years later, the restoration was complete. Now, Thoele takes the Pierce out for a ride about three or four times per year.
With only five horsepower, Thoele said, it can be a difficult drive.
"You have to be careful, or the kids will run over you," he laughed.
Copyright 2018 The Lawrence Journal-World. All rights reserved. This material may not be published, broadcast, rewritten or redistributed. We strive to uphold our values for every story published.