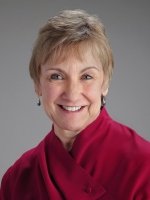 Karen Miller, dean of the Kansas University schools of Nursing and Health Professions, announced that she will step down from her leadership positions at the Kansas University Medical Center at the end of the academic year.
"I have been privileged to lead exceptional faculty and staff whose innovations in education, research and practice are known nationally and internationally," said Miller, who has served as dean of Nursing for 18 years and dean of Health Professions for 16 years.
In the latest rankings by U.S. News & World Report, seven programs in the two schools were ranked in the top 25 among public universities. Last year, the School of Nursing was recognized as a Center of Excellence in Education by the National League for Nursing.
Miller intends to remain a faculty member as a tenured professor in the School of Nursing.
Dr. Douglas Girod, executive vice chancellor of the Medical Center, said he will work with the schools of Nursing and Health Professions to coordinate the recruitment process for a new dean of each school.
Copyright 2018 The Lawrence Journal-World. All rights reserved. This material may not be published, broadcast, rewritten or redistributed. We strive to uphold our values for every story published.