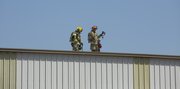 A paint booth inside a Lawrence manufacturing company combusted Tuesday, setting a portion of the building aflame briefly.
Emergency crews responded to Horizon Systems, 1101 Horizon Dr., at 2:45 p.m. for a reported structure fire. Shaun Coffey, a division chief with Lawrence-Douglas County Fire-Medical Department, said responders had the flames under control after 20 minutes.
Up to 50 employees evacuated the building, according to Dave Nutter, vice president of operations. No injuries were reported, Coffey said.
Nutter said a paint booth became too warm and eventually combusted. Speaking outside the building as firefighters continued to work, he said he did not know the extent of the damage. He said smoke from the incident did not reach the office areas in the building.
Horizon Systems makes fabricated metal components for bulk-material handling, Nutter said. He said an incident like this has not happened before in his 24 years with the company.
Three fire engines responded. Crews briefly shut down traffic near the intersection of Haskell Avenue and Horizon Drive.
Copyright 2018 The Lawrence Journal-World. All rights reserved. This material may not be published, broadcast, rewritten or redistributed. We strive to uphold our values for every story published.