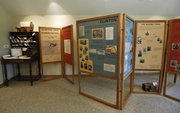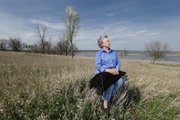 It was a clean cornfield, and it was beautiful.
Clarence Anderson would plow it, plant it, cultivate it. In short, he cared for those more than 200 acres in western Douglas county, and they did the same for him.

Today, though, those acres are a different type of beautiful. They're a part of of the Rock Creek arm of Clinton Lake. And from the road, you can still see a piece of Clarence's field. Don't doubt that Clarence's 96-year old eyes see it every time he drives by.
"The worst thing is all those trees," Clarence says. "It used to be my clean cornfield, and now it is growing up in trees."
Those trees are progress. At least that was the line in 1968. Progress was the word of the year in these parts as federal officials from the U.S. Army Corps of Engineers hosted meeting after meeting — some of them in town halls and some of them in the living rooms of farmhouses that were in the path of what is now Clinton Lake.
"Those first people who sold to the government had no idea what had hit them," says Martha Parker.
Her parents were the first to sell. They sold the 80 acres and the home on it for $200 an acre. (Adjusted for inflation, that is about $108,000 today for prime bottomland farm ground and a house. Get your checkbook out and let me know how that goes.) It all sits just below the north end of the Clinton Lake Dam.
"They were too nice," Parker says of her parents. "They were serving them coffee while they were there to take their land."
And indeed, it all got taken. Clinton Lake includes about 7,000 acres of surface water and thousands of additional acres for parkland. But after those first few sales, the line about progress may have still worked with the leaders of Lawrence, but it didn't work well with the common folks of the Wakarusa Valley.
"Out here, the project was known as the damn dam," Parker says.
Grand Opening
Leaders of the Wakarusa River Valley Heritage Museum will unveil a new $78,000 addition at 1 p.m. on May 3.
The expansion project, which largely was funded through a heritage grant from Douglas County, added about 1,300 square feet of new exhibit and meeting space to the museum, which is located at the entrance to the Bloomington Park campground at Clinton Lake.
Dianne Miller, director of the National Park Service's Underground Railroad Network to Freedom, will deliver an address at 2 p.m.
When the museum opens it will feature exhibits on the Underground Railroad, an exhibit called the Gun and the Gospel, and an exhibit on amateur baseball teams that existed in the river valley.
The museum plans to have a formal dedication ceremony for the new facility on June 14.
•••
Parker remembers standing up at a meeting of a group that had been formed to fight the lake project, the Clinton Lake Landowners Association. She told the crowd that she thought the Corps ought to be made to save at least something from this area of small farming communities. She suggested the stately home of Col. James Steele, the founder of the town of Bloomington. She got more than 300 signatures on a petition, and then someone asked her what she thought they ought to do with the old house.
Well . . . a museum might work. The idea drew a few odd looks, given the site was more than a 30-minute drive from Lawrence, but residents of the valley rallied around the idea anyway.
"My name was not very good with the Corps because they didn't expect anybody to try to save anything, let alone create a museum," Parker recalls.
Like so many things, the effort to save the Steele home failed. It became vandalized and was removed. But the Corps offered a new nonprofit history group a lease for three-acres where the house sat. The property included an old cow shed that was still standing.
Martha Parker and her band of followers had their museum.
It didn't take long to fill it up either. Parker and friends would conduct interviews with landowners in the valley, often as they were cleaning out their attics as they vacated the property.
Come to find out, there was a lot more for her museum than stories of clean cornfields. The land had been in many of these families for generations. For some, the land represented the first real thing their family had ever owned. The little community of Bloomington was largely a black community, populated by soldiers who had fought in the Civil War.
Many others had stories about how their families had helped fight a secret battle, running stations on the Underground Railroad to help slaves escape to free territory.
Parker would first hear the stories, passed down from generation to generation. And then the documents and the artifacts started piling up as families cleaned out the attics and the barns and the basements for a final time.
Today, the Wakarusa River Valley Heritage Museum — it used to be called the Clinton Lake Museum until a few years ago — has birth certificates, land records, obituaries, and numerous other documents for anyone who wants to research family history in the area.
For help, you can ask its longtime director, Parker, who is now 85.
"As Clarence once told me, if it hadn't been for the lake, we wouldn't have known all this," Parker said. "Once they flooded the lake, all the history started rising to the top. It is kind of symbolic."
•••
In the 1960s and '70s when the lake battle raged, Parker was on dry ground. She already was married and had moved off her parents' place. She was living on property that wasn't at risk of being swallowed by the lake.
But she didn't need her name on a deed to feel the pain the project was creating.
"When I saw the devastation and what happened to those people, I felt like I had to fight," Parker says. When I would interview them, they would just start crying. These people never would have left. They never had any plans to leave this valley.
"And I can tell you, there was nothing more devastating to watch than those farm sales."
Well, maybe what happened after the auctions would rival it. If the houses were close to a creek or ravine, they were unceremoniously pushed into it. Otherwise, a hole was dug, and that would be their final resting place.
All that was a long time ago now. The lake began holding water in 1977 and had reached its normal levels by 1980. Despite the passage of time, Parker says there are plenty of former valley residents who went to their graves bitter. But Parker won't be one of them.
"After awhile, you just accept it and rely on the memories," Parker says. "They are good memories, and that is what we really wanted to salvage."
Today, the museum and the Corps have an excellent working relationship. The museum is frequently promoted by the Corps, and the size of the museum property has grown to seven acres. There are talks about another building in the future that could host community gatherings, wedding receptions and other such events on the property.
And Parker without hesitation talks about what the lake has brought to the area. It has helped stop devastating floods like the one of 1951 that created the original idea for the lake. It provides precious drinking water for towns such as Lawrence, Baldwin City, Wellsville, Edgerton and numerous rural water districts. And then, there are the approximately 2 million people who visit the lake each year, and the millions of dollars they pump into the area's economy.
"I guess it has been what they told us it would be in the beginning," Parker says. "It has been progress."
But that doesn't mean that Parker and the other valley residents were wrong. That's the thing about progress. It so often is built on something or someone, and it is easy for the rest of us to forget that.
"I just want people to remember when they come out here and enjoy the lake what other people gave up to make it possible," Parker says.
So, as we enter lake season, take some time to do that this summer. Then, by all means, go back to your fishing, skiing and gallivanting on what is a beautiful piece of progress.
But if you hit a tree, don't complain to Clarence.
— Each Sunday, Lawhorn's Lawrence focuses on the people, places or past of Lawrence and the surrounding area. If you have a story idea, send it to Chad at clawhorn@ljworld.com.
Copyright 2018 The Lawrence Journal-World. All rights reserved. This material may not be published, broadcast, rewritten or redistributed. We strive to uphold our values for every story published.