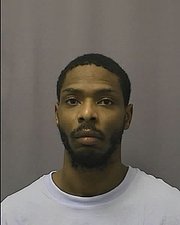 A preliminary hearing will be held May 20 for a Lawrence man accused of first-degree murder in a shooting that occurred in March.
Dustin D. Walker, 29, appeared for a brief hearing Wednesday in Douglas County District Court on a motion by defense attorney Sarah Swain to delay the hearing due to a scheduling conflict. The hearing had been set for the first week in May.
Walker is accused in the March 8 shooting death of Patrick Roberts, 39, during an early-morning disturbance at Roberts' apartment in the 2400 block of Cedarwood Avenue.
Prosecutors allege the shooting happened during an attempted burglary of the apartment.
Copyright 2018 The Lawrence Journal-World. All rights reserved. This material may not be published, broadcast, rewritten or redistributed. We strive to uphold our values for every story published.