Manhattan — Finding ways to extend the life of reservoirs like Clinton Lake will likely be a big part of the state's water plan for the next 50 years.
And a controversial proposal to build a 450-mile pipe to pull water out of the Missouri River and send it to drought-stricken farmers in western Kansas may also be part of the vision.
Those were just two of the major themes that came out of a meeting Friday that involved some 250 participants from various state agencies, farm groups and other people with a vital interest in the state's water resources.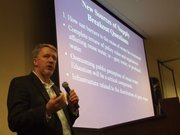 But groups trying to develop a 50-year strategic plan for the state's water resources are also looking at other ideas, from developing new crops that use less water, to investigating ways for households to purify and reuse waste water.
"I think Kansans, before this drought hit the whole state in the face … have taken water for granted," said Tracy Streeter, director of the Kansas Water Office, which coordinates water planning and policy for the state. "The drought has actually been that slap in the face, if you will, to all of us that we're pretty vulnerable in a lot of places."
Gov. Sam Brownback in December called on state agencies to develop a 50-year "vision" for the state's water resources. But those who took part in Friday's planning session said water issues vary widely across the state.
In eastern Kansas, one of the biggest issues is the condition of major reservoirs like Clinton, Lake Perry, Tuttle Creek and John Redmond Reservoir, which are rapidly filling up with sediment.
In Wichita, officials are embarking on a massive project to pump flood water from the Little Arkansas River into the Equus Beds aquifer to restore that water supply and prevent the inflow of salt water into that system.
And in western Kansas, where the vast Ogallala Aquifer is the major source of water, the extended drought has forced farmers to pump more water for irrigation, speeding up the rate of groundwater depletion.
Streeter acknowledged that there is no plan to reach a "sustainable" rate of use in the Ogallala, because nature replenishes only about 6 percent of the water farmers pump for irrigation. Instead, he said the guiding principle there is "conserve and extend," a concept that is also known as "managed depletion."
"We are definitely interested in extending the life of our aquifer," he said. "There's also an interest in looking to other sources while conserving and extending."
And that leads to the controversial plan being suggested by some in western Kansas of building an aqueduct that would pump water out of the Missouri River in northeast Kansas and send it along a roughly 450-mile trip, mostly uphill, to southwest Kansas where it could be pumped back into the aquifer and stored for later use.
"I think one thing that's evident and everyone would agree with is, I think we have an under-appreciation for the Missouri River," Streeter said. "Whether you're in Johnson County, or whether you're an advocate and fan of the aqueduct, I think it's clear that it's a water resource that Kansas is entitled to utilize."
But many people in northeast Kansas say that idea is flatly unfeasible.
"I think that's foolish," said Rep. Tom Sloan, R-Lawrence, who attended the planning session. "That is a tremendous amount of money. Using that same money, we can address building more small impoundments to hold more water. We can do a lot to address sedimentation. We can do programs to help farmers transition to lower-water use crops.
State Sen. Marci Francisco, D-Lawrence, who also attended the meeting, agreed, saying it would be economically unfeasible.
"I don't know that, economically, agriculture is going to return what we need to recover that expense," Francisco said. "Because we still are going to have to compete on a global market for the cost of our grain. … If we're saying we want to be the breadbasket of the world, we can't do that with unaffordable water."
Kansas Agriculture Secretary Kathy McClaskey said Friday's meeting was to develop a "first draft" of a 50-year water vision. She said the next steps would be to hold public meetings throughout the state to refine it further.
A final meeting is planned for Nov. 12-13 in Manhattan to finalize the document.
Copyright 2018 The Lawrence Journal-World. All rights reserved. This material may not be published, broadcast, rewritten or redistributed. We strive to uphold our values for every story published.