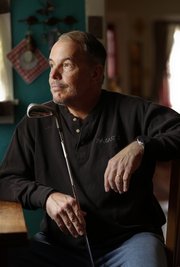 Chris Sorrentino finished putting at the 10th green of the Alvamar members golf course one day in March when he turned around ... and his golf cart was missing.
Not only the cart, but his golf clubs, his iPhone, his keys.
"I was kind of dumbfounded," said Sorrentino, who was golfing alone that day. "I thought I was going nuts."
He looked down an embankment, thinking the cart may have rolled down it. Nothing. He asked a couple coming back from the clubhouse. Nothing.
He stopped at a nearby home, notified the police and logged into Apple iCloud to locate his phone using the Find My Phone app. It was on the 13th fairway.
But where were his clubs?
The police later found the cart, by the 14th tee. Somebody at the clubhouse mentioned seeing three teenagers hanging around earlier in the day, skateboarding; they supposedly had medium-length, scraggly hair, like pro golfer Rickie Fowler. Some other people playing the course that day reported witnessing two teenagers get out of the cart and run toward Bob Billings Parkway, the clubs in tow.
It turned out the thieves dropped some of the stolen items during their escape: a 6 iron and, luckily for Sorrentino, his most expensive club, a driver.
Many people who belong to a country club would be more easily able to replace a set of stolen clubs. But Sorrentino, who moved to Lawrence in August, is a retired Air Force veteran living off disability payments and his pension. He has several disabilities, including asthma and tinnitus, that are related to his military service, which took him to such places as the Middle East during the beginning of the Afghanistan War.
Sorrentino, 57, was only able to join Alvamar after getting a discount because his wife is a Kansas University employee. So he hasn't been able to afford to replace his clubs. His property insurance deductible of $2,000 is just above the cost of the stolen goods.
He also worries that he'll never be able to get back some sentimental items that were in his bag, including bags tags from the historic St. Andrews golf course in Scotland and a 1993 hole-in-one game.
Sorrentino said the March 13 incident was "the icing on the cake" after a few rough years. First, he lost a good-paying construction job. Then his wife lost her job in an area school district. Then he lost a contract he had for counseling fellow military veterans.
His time on the golf course was supposed to be a reprieve. So when his cart disappeared a little more than halfway through his first round of golf in a long time, Sorrentino thought, Here we go again.
He's relieved, in one sense. Sorrentino, a certified counselor, said he knows from experience what kind of personality it takes to commit such a brazen crime.
"I was there by myself. They could have come over and robbed me," he said. "I had my wallet on me. They could have beat me up or even killed me. It's only a matter of time before one of them hurts somebody."
He is also grateful to staff of Alvamar, who Sorrentino said "went above and beyond the call of duty." They were apologetic, assisting any way they could, including wading through bushes to locate his clubs.
"I was really impressed with their customer service," he said of the golf course staff, who were just as perplexed by the incident as he was. "They bent over backward."
Sorrentino has been back on the course since, using clubs on loan from Alvamar. He's contacted pawn shops in the area but hasn't been able to locate his Titleist bag, Adams Redline irons or TaylorMade woods; the police will be notified if the items do show up. Sorrentino wonders if it was even worth it for the assailants.
"In the end, what are they going to be able to do with the clubs? Not very much," he said.
Copyright 2018 The Lawrence Journal-World. All rights reserved. This material may not be published, broadcast, rewritten or redistributed. We strive to uphold our values for every story published.