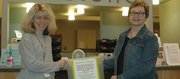 Sheryl Coleman is hoping to put some likely unused technology to good use.
Inspired by a news report about a man who uses special iPod playlists to stimulate the minds of Alzheimer's patients, Coleman has created "iPods for a Cause," hoping to do the same for Alzheimer's and dementia patients in the Bonner Springs and Edwardsville area. She hopes to gather enough donated iPods to start with Bonner Springs Nursing and Rehabilitation Center and expand from there.
It started with a story on ABC World News about a social worker in New York who realized Alzheimer's patients responded extremely well to iPods that were loaded with music the patients enjoyed in younger years.
One image from the story struck Coleman in particular: when cameras showed a man who sat looking at the ground, unresponsive and "despondent," Coleman said.
"They put his earphones on him, turned on the iPod, and you can just see the transformation," she said.
Though Coleman doesn't have any close friends or family who have Alzheimer's or dementia, the image made a big impact.
"I don't know why that struck a chord with me," she said. "I got to thinking and thought, 'Why couldn't we do this locally?'"
She got in touch with Rick Marcotte, director of Bonner Springs Nursing and Rehabilitation, who welcomed the donation of iPods for use at his facility and also told Coleman he would figure out how to create patients' playlists and load them onto the iPods.
Of about 45 patients at the facility, Marcotte said, about 10 have cognitive deficits like Alzheimer's and dementia. He said the center offers validation therapy, reality orientation and some group reminiscence therapy for those patients, which can involve the use of older music to help stimulate their memory.
"Oftentimes, their longterm memory is intact," he said. "We have music groups come in quite a bit."
In addition to Marcotte's facility, the Bonner Springs City Library agreed to be a drop-off center for donated iPods, iPod charging cords and headphones.
Coleman says she hopes people who have found other means of listening to music will consider digging out their unused technology.
"A lot of people are using other things to listen to music now, their phones or iPads," she said. "They probably know several people who have got their iPod stuck in a junk drawer somewhere."
Copyright 2018 The Lawrence Journal-World. All rights reserved. This material may not be published, broadcast, rewritten or redistributed. We strive to uphold our values for every story published.