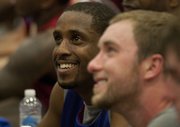 Former Kansas University guard Jeff Hawkins has decided to step down as boys basketball coach at Perry-Lecompton High after four seasons, Hawkins confirmed Sunday night.
Hawkins, who played at KU from 2002-06, said Sunday that, "I took a new job at Lawrence Parks and Rec, and the schedule just wasn't going to allow me to give the boys the attention that coaching them deserved."
He indicated he would focus on individual workouts and camps and also "coaching (son) Mavrick for now."
Earlier, in announcing the decision on his social media websites, Hawkins said: "With a heavy heart, I recently turned in my letter of resignation as the head coach of Perry Lecompton boys basketball coach. After a lot of thought and prayer and speaking with leadership of both Perry and my new job with Lawrence Parks and Rec, I came to the conclusion that I wouldn't have the time to dedicate to the team as fully as I would like and as much as the boys deserved. I have absolutely loved my four years at Perry and have been honored to coach great young men. I will forever be thankful for their hard work, dedication and desire to win. I'm thankful for the parents that were helpful and supportive of our journey to succeed. I'm thankful for the administration and my coaching staff that were always supportive of my vision. I'm thankful for my family for their love and support as coaching takes so much time away from them. My love for coaching and basketball will never waver so I'll continue to be around the game. Private/Group/Team Workouts, camps and clinics will be coming soon. And of course this frees up time for me to coach Mav's bright basketball future."
Copyright 2018 The Lawrence Journal-World. All rights reserved. This material may not be published, broadcast, rewritten or redistributed. We strive to uphold our values for every story published.