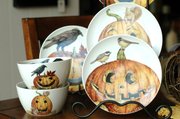 Love Halloween but don't love those tacky plastic pumpkins and messy cotton webs? Here's a more stylish — and (bonus!) useful — way to bring the season to your tabletop. Friendly jack-o'-lanterns and cute critters and birds come together in these seasonal dishes, designed by Tim Coffey for Creative Co-Op. Each set of four plates and bowls features a different animal and a different jack-o'-lantern personality.
Where to get them: Winfield House Home Furnishings, 647 Massachusetts St.
What you'll pay: $14.95 apiece for the plates, $15.95 for the bowls.
About the shop: Winfield House opened on Massachusetts Street 18 years ago and moved to its current storefront three years ago. The store sells home furnishings from large room staples — rugs, couches, hutches and other furniture — to homey details — dishes, linens, accent pillows and candles. "We're not just your average furniture store," owner Ken Campbell says. "We do so much in decor as well."
While you're there: Get creative — Winfield House's Design Center allows you to choose your own fabrics for upholstered furniture and window coverings. And especially with the holidays coming up, don't miss the ever-changing array of seasonal pretties.
Copyright 2018 The Lawrence Journal-World. All rights reserved. This material may not be published, broadcast, rewritten or redistributed. We strive to uphold our values for every story published.