Photo Gallery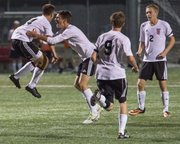 LHS soccer vs. SM West
Sometimes it is best to let your instincts take over.
That's what Lawrence High boys soccer sophomore Piper Hubbell did in the second half of a tie game Thursday night. When his teammate, junior forward Jakob Burdett, played the ball toward the middle of the field, Hubbell had a split-second to figure out how to win the pass from an oncoming Shawnee Mission West defender.
With the ball coming across his body, instead of taking a hard cut in front of his nemesis, Piper found himself spinning around the defender 180 degrees. The flawless motion allowed him to step into a rhythm shot, which he drilled into the upper-left corner in the 51st minute, scoring the decisive goal in a 2-1 Lawrence victory at the LHS pitch.
"It kind of came naturally around to my right foot, and I could just hit it," Hubbell said, noting he reacted instead of over-thinking on the play. The Lions (2-4-1) trailed SMW (2-8) at halftime, 1-0, due to an own goal in the 26th minute on a Corbin Warner corner kick. But less than five minutes into the second half, senior midfielder Connor Henrichs scored an opportunistic goal to tie the game.
Cristo Ramirez, the Vikings' sophomore goalkeeper, had just punted the ball away and it was deflected at just the right spot to re-route the ball's path directly toward Henrichs' feet. The unexpected prize sitting in front of him caught the senior off guard, but he quickly analyzed the situation and sent the ball bouncing toward the left post.
"I looked up and had my eyes up," Henrichs said, "and was able to play it into the corner with good enough pace that it was able to get by him (Ramirez)."
LHS coach Mike Murphy said Henrichs' experience helped in the situation, too.
"That's what we talk about all the time — anticipating," Murphy said. "Because if you can settle into your lanes and anticipate the pass, you can do that."
The good fortune helped offset the first-half own goal, which occurred when junior Lions defender Ellis Springe, as well as a crowd of SMW players, all leapt in front of the net on a corner kick. Murphy said Springe was not to blame.
"Those situations, that's tough, because you're both up in the air and the ball, it may not even be that you knew it was gonna hit your head," Murphy said, "because you're thinking, 'It's probably gonna hit his head.' Those things happen."
Hubbell was glad the Lions could recover and snap a four-match winless streak, and he pointed to Henrichs for making it possible.
"Without Connor's initial goal," Hubbell said, "mine wouldn't even have mattered."
Burdett, Amos Rel, Springe and Matt Mantooth put shots on goal for LHS in the win. Lions junior goalkeeper Andrew Ornburn finished with six saves.
LHS will play host to Gardner-Edgerton at 7 p.m. Monday.
Copyright 2018 The Lawrence Journal-World. All rights reserved. This material may not be published, broadcast, rewritten or redistributed. We strive to uphold our values for every story published.