Photo Gallery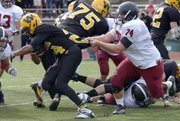 LHS football at SM West
Overland Park — Lawrence High coach Dirk Wedd made the hand signal to quarterback Nyle Anderson, and on the biggest play of the season, Anderson was about to keep a secret from his teammates.
Maybe it would have gone down as "The Boot" in Lawrence High football lore had the Lions been able to hold off No. 1-ranked Shawnee Mission West in Friday's 14-13 loss at SM South District Stadium. It definitely would have been the signature play of the season for LHS, which came in as a huge underdog to the reigning state champs after an 0-2 start.
But here were the feisty Lions, tied 7-7 with 1:35 to go, facing a fourth-and-one at their own 38-yard line when Anderson told his teammates that they were about to give the ball to Kieran Severa on a run to the right.
With 21 players on the field expecting the ball to go to the senior, Anderson followed his coach's secret orders — he faked the handoff, then curled around the left side of the line.
And was welcomed by nothing but sideline ahead of him.
Anderson's naked bootleg was so open that even though he began to lose speed at the 15, he still was able to run untouched into the end zone, shocking the home crowd and giving LHS a 13-7 lead with just 1:26 left.
"That was probably one of the most incredible feelings I've had in a while," LHS center Kyle Wittman said.
LHS just couldn't hold on in the final 86 seconds.
The first miscue came on the extra point, as West's Lee Spight came through the middle to block the try and keep the score at 13-7.
Then, on the ensuing kickoff, LHS couldn't keep the ball away from dangerous returner — and Kansas University football commit — Andre Maloney. Though he started on the right hash, Maloney was speedy enough to get all the way to the left hash to take the kick, and his 34-yard sprint up the middle gave West the ball at the LHS 44 with just over a minute left.
The Lions still had a couple of chances at ending it. On the first play, West's Mario Louis fumbled the ball forward but was able to pounce on it before a pile formed.
Then, on second down, LHS's Tanner Green and Ryan Bellinger combined for a sack that forced West into a third-and-11.
The Vikings' A.J. Verdini followed with a crucial 24-yard completion to Justin Hobbs, and with 13.4 seconds left, he found Maloney on the right side for an eight-yard touchdown that tied the score.
Tyler Thayer added the extra point, and LHS couldn't drum up any magic after that. A deep pass by Anderson was intercepted by Hobbs to end the Lions' final drive.
"I love the effort. They're a great bunch of kids," Wedd said. "I don't think anybody outside of that locker room thought we had a shot, and they believed in what we're doing."
LHS set the tone with a first drive that was inches from perfection.
Wedd switched to a two-tight-end base formation, saying the coaches decided that was a better fit for the personnel they had.
"We're a bunch of fat kids up front with a fat running back," Wedd said with a smile. "We've got to come off the ball and knock people off the ball."
The result of the change was an impressive push up front, especially on the right side of the line behind Wittman, senior Jacob Nation and sophomore Amani Bledsoe.
On 14 plays — 13 of them were runs — LHS took 7:55 off the clock and drove all the way to the West one-yard line before back Severa was stuffed on fourth-and-less-than-a-foot at the goal line.
"We've got to find a way to get six more inches," Drew Green said. "That's the biggest difference in the game is that six inches."
LHS's defense survived thanks to huge plays defensively. The Lions came away with three West fumbles — including two inside the 10-yard line — with Drew Green, Bellinger and J.D. Woods notching recoveries.
Anderson also saved LHS at the end of the first half, knocking away a pass in the end zone on the final play to keep his team down, 7-0, at the break.
The Lions' slow-it-down — and grind-it-out — strategy worked to limit West's offensive chances, as both teams only had the ball three times before the break.
LHS tied it on a 13-play, 94-yard drive in the fourth quarter — all 13 plays were runs — before forcing a punt to set up Anderson's long run.
In all, the Lions rushed 43 times for 258 yards against the Vikings, good for a 6-yards-per-carry average.
"That was probably some of the best O-line play that I've been a part of in my football career," Wittman said. "I couldn't have asked for any more from the four guys surrounding me. They're the reason why the game was what it was."
Anderson finished with 12 carries for 101 yards, while the bruising Green had 22 rushes for 87 yards and a touchdown.
Verdini led West (3-0), completing 12 of 18 passes for 211 yards with a touchdown.
LHS (0-3) will play host to Olathe Northwest on Friday, with Wittman believing his team would grow from the close call.
"Disappointment, that's the first word that comes. But proud. Proud's the second word," Wittman said. "After last week and the week before, what happened, coming out and playing today like that ... we played like real LHS kids."
Shawnee Mission West 14, Lawrence High 13
LHS | SMW
First downs 15 | 18
Rushes-yards 43-258 | 35-152
Passing yards 24 | 211
Total offense 282 | 363
Return yards 39 | 58
Fumbles-lost 1-0 | 4-3
Penalties-yards 4-44 | 5-33
Score by quarters
LHS 0 0 0 13 — 13
SMW 0 7 0 7 — 14
Individual statistics
Rushing
LHS: Nyle Anderson 12-101 TD, Drew Green 22-87 TD, Kieran Severa 5-43, J.D. Woods 4-27.
SMW: Mario Louis 17-116 TD, Rashaun Owens 5-32, Andre Maloney 5-24, Justin Hobbs 1-1, Louis Rollins 1-0, Team 2-0, A.J. Verdini 4-minus-21.
Passing
LHS: Anderson 3-7-24 INT.
SMW: Verdini 12-18-211 TD.
Receiving
LHS: Price Morgan 2-20, Severa 1-4.
SMW: Maloney 3-80 TD, Hobbs 4-62, Cooper Arner 1-34, Mitchell Wade 3-31, Owens 1-4.
HOW THEY SCORED
Second quarter
3:41 — Mario Louis 19 run. Tyler Thayer kick. (SMW 7, LHS 0.)
Fourth quarter
7:18 — Drew Green 2 run. Ellis Springe kick. (SMW 7, LHS 7.)
1:26 — Nyle Anderson 62 run. Springe kick blocked. (LHS 13, SMW 7.)
:13.4 — Andre Maloney 8 pass from A.J. Verdini. Thayer kick. (SMW 14, LHS 13.)
Copyright 2018 The Lawrence Journal-World. All rights reserved. This material may not be published, broadcast, rewritten or redistributed. We strive to uphold our values for every story published.