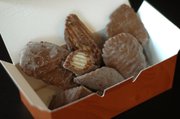 Whatever you're buying at Rocky Mountain Chocolate Factory, there's a high probability it's coated in chocolate: apples, frozen bananas, frozen cheesecake slices, pretzels, graham crackers, cashew clusters, marshmallows, potato chips ... wait, potato chips? Indeed.
Just as they sound, they're simply potato chips (with ridges, if you were wondering) coated in chocolate. Here's how the Chocolate Factory pitches them on its website: "Our crunchy potato chips are drenched in creamy milk chocolate for the perfect blend of sweet and salty ... If you want a great conversation-starter, serve these to your guests at your next party!"
Where to get it: Rocky Mountain Chocolate Factory, 647 Massachusetts St. (inside Cold Stone Creamery)
What you'll pay: $20.93 a pound. (At a fifth of a pound, our box cost $4.19.)
Try it with: Would Cold Stone mix these into a cup of ice cream upon request? Not sure, but it might be good.
Also on the menu: An assortment of chocolate truffles, fudge and other candies such as haystacks and Peanut Butter Buckets.
Copyright 2018 The Lawrence Journal-World. All rights reserved. This material may not be published, broadcast, rewritten or redistributed. We strive to uphold our values for every story published.