After his biggest mistake of the night, Veritas Christian running back Chad Stieben heard coach Blake Mudd's words loud and clear.
Photo Gallery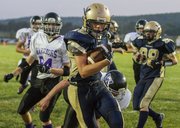 Veritas football vs. Wichita Warriors
"You owe me two touchdowns," the coach said to his sophomore back.
In the final minutes, Stieben delivered that and more.
The sophomore rushed for a pair of touchdowns and also grabbed an interception in the game's final five minutes, helping to lift Veritas Christian to a 52-44, come-from-behind victory over the Wichita Warriors at the Eagles Nest.
"I said, 'You need to run angry now, because you made a bonehead mistake, and now it's time to finish the game,'" Mudd said. "He played hard and finished it for us."
Stieben was the star for the Eagles, rushing 24 times for 274 yards and five touchdowns.
Still, it was a mental lapse that cost his team quite a bit of momentum late.
With his team trailing 38-36 with 10 1/2 minutes left in the game, Stieben broke a pair of tackles on the left side and ran into the end zone for what appeared to be a 37-yard touchdown.
Just before the goal line, though, he pointed back toward a defender, and because that happened in the field of play, the touchdown was taken off the board, with a 15-yard unsportsmanlike penalty marked off from the 2.
Veritas Christian quarterback Mark Weinhold lost a fumble on the next play, giving it back to Wichita.
"I took ownership of the penalty. Then, I just got a rush of adrenaline," Stieben said. "I made myself mad at myself, which caused me to push harder."
He made good on his next chances.
Following a Wichita TD that made it 44-36, Stieben took a draw play 25 yards for a score with 4:32 left, and Weinhold spun in for the two-point conversion to tie it at 44.
Wichita fumbled its next play from scrimmage, with Veritas' Ben Post recovering.
Stieben broke two tackles on his next rush, scoring from 18 yards out to give Veritas the lead for good.
After both of his TDs, he pointed to Mudd to try to earn back some trust.
"He's an incredible athlete," Veritas senior lineman Jesse Moore said. "He's got incredible heart. He's definitely a team leader."
Stieben helped seal it a few plays later, intercepting a deep pass after it ricocheted off the hands of a Wichita receiver.
The Eagles, with a first-down run from Weinhold, were able to run out the clock.
Mudd, who picked up a victory in his first game as Veritas' coach, left impressed with his offensive line of Hayden Pine, Post and Moore, who battled through cramps throughout the night.
"They won the football game for us," Mudd said. "They dug deep."
Weinhold added a pair of touchdowns through the air, with one going to Thatcher Martin and the other going to Isaiah Garrett.
The win also came on a night that honored former coach Doug Bennett. During a halftime ceremony, the Eagles officially announced their field would be called "Bennett Field" in honor of the school's first coach, who retired at the end of last season.
"It's really special," Bennett said. "I really appreciate it, but so many other people over the last 12 years or so have been a part of making it a great program."
---
WW | VC
First downs 16 | 18
Rushes-yards 55-227 | 43-278
Passing yards 87 | 94
Total offense 314 | 372
Return yards 146 | 113
Fumbles-lost 5-2 | 9-3
Penalties-yards 8-104 | 10-70
Score by quarters
WW 12 12 14 6 — 44
VC 14 22 0 16 — 52
Individual statistics
Rushing
WW: Levi Peffly 19-138 4 TDs, Isaac McClure 19-74, Andrew Johnson 12-16, Bryson Turner 2-2, Patrick Wiginton 2-2, T.J. Masterson 1-minus-5.
VC: Chad Stieben 24-274 5 TDs, Mark Weinhold 16-43, Isaiah Garrett 1-minus-2, TEAM 2-minus-37.
Passing
WW: Levi Peffly 3-14-87 3 interceptions, TD.
VC: Mark Weinhold 5-14-94 interception, 2 TDs.
Receiving
WW: Josh Ward 1-49 TD, Andrew Johnson 1-37, Patrick Wiginton 1-1.
VC: Seth Hale 1-33, Thatcher Martin 2-30 TD, Chad Stieben 1-21, Isaiah Garrett 1-15 TD.
HOW THEY SCORED
First quarter
7:26 — Levi Peffley 26 run. Ward pass from Peffly. (WW 8, VC 0.)
5:09 — Chad Stieben 25 run. Mark Weinhold pass failed. (WW 8, VC 6.)
4:59 —Isaac McClure 66 kickoff return. Levi Peffly pass failed. (WW 14, VC 6.)
1:18 —Thatcher Martin 25 pass from Mark Weinhold. Run failed. (WW 14, VC 12.)
Second quarter
11:44 — Chad Stieben 51 run. Michael Rask pass from Mark Weinhold. (VC 20, WW 14.)
8:22 —Mark Weinhold sacked for safety. (VC 20, WW 16.)
7:28 — Isaiah Garrett 15 pass from Mark Weinhold. Mark Weinhold run. (VC 28, WW 16.)
5:56 —Levi Peffly 5 run. Levi Peffly run. (VC 28, WW 24.)
1:45 — Chad Stieben 5 run. Mark Weinhold run. (VC 36, WW 24.)
Third quarter
9:28 —Levi Peffly 61 run. Nathan Walton pass from Levi Peffly. (VC 36, WW 32.)
4:22 —Levi Peffly 2 run. Levi Peffly pass failed. (WW 38, VC 36.)
Fourth quarter
6:57 —Josh Ward 49 pass from Levi Peffly. Peffly run failed. (WW 44, VC 36.)
4:32 — Chad Stieben 25 run. Mark Weinhold run. (WW 44, VC 44.)
4:21 — Chad Stieben 18 run. Chad Stieben run. (VC 52, WW 44.)
Copyright 2018 The Lawrence Journal-World. All rights reserved. This material may not be published, broadcast, rewritten or redistributed. We strive to uphold our values for every story published.