As much as I try to protect myself while working in the garden, a few pesky ticks always manage to find me over the course of the season. Besides their creepy-crawliness and the itching that comes from their bites, ticks are vectors of several pathogens. Of the options available for protection, Douglas County resident Luann Dixon says she has found only one that works for her: permethrin.
Permethrin-based repellents must be applied to clothing or gear rather than skin, and according to the EPA website it is the only pesticide registered to pre-treat fabrics. Permethrin is made of synthesized compounds that mimic the naturally occurring ones found in chrysanthemums.
"I learned about it earlier this year. I was going out in April and May to work in my garden and finding ticks," Dixon says. Her brother told her about the repellent, and after a little searching, Dixon found the permethrin-containing product Repel at a local outdoor supply store.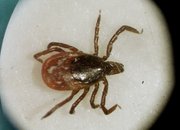 Dixon says she followed the label instructions to treat a pair of jeans, a shirt and socks.
"I haven't had any problems with ticks when I'm wearing the treated clothing," she says. "Some nights, I'll take the dogs for a walk, and if I don't have those clothes on, I get bit."
Permethrin is reported to be effective for mosquito protection as well. According to the EPA, it is the most widely used mosquito adulticide in the U.S., which is attributed to "its low cost, high efficacy and low incidence of pest resistance."
After shopping around a little more, Dixon found a pump spray product called Sawyer that contains the same amount of permethrin (0.5 percent) as the Repel product. She prefers the pump sprayer of the Sawyer product over the aerosol. Permethrin may be sold under a number of other brand names as well, so look at the active ingredient on the label when making a selection.
Kansas State University recommends avoiding tall grass, weeds and brushy areas where ticks like to hang out in addition to using a repellent. Wear light-colored clothing so that ticks can be easily seen if they do get on you, and inspect skin after being in potentially tick-infested areas.
If you do find a tick attached to your skin, use forceps or tweezers to remove it. Grip the tick as close to your skin as possible and pull straight back with slow, steady pressure. Also, despite all the stories about matches, Vaseline, nail polish and other home remedies, pulling it with tweezers is still reported to be most effective at getting the whole tick out.
Ticks are less likely to transmit pathogens when removed promptly. If you have a tick attached to you and develop flu-like symptoms within 10 to 14 days after tick removal, see a physician. I try to make a note of tick bites in my calendar so I can give the doctor more accurate information if the need arises.

Although permethrin is reported to provide good protection from ticks and mosquitoes, it is known to be toxic to a number of aquatic organisms and honeybees. Using the product according to label instructions will minimize risks, but people should always use personal judgment when deciding how to protect themselves.
DEET-based repellents are also reported to be effective against ticks.
Dixon reminded me that even with protection from ticks and mosquitoes, the poison ivy is still out there. I'm starting to feel itchy.

Copyright 2018 The Lawrence Journal-World. All rights reserved. This material may not be published, broadcast, rewritten or redistributed. We strive to uphold our values for every story published.